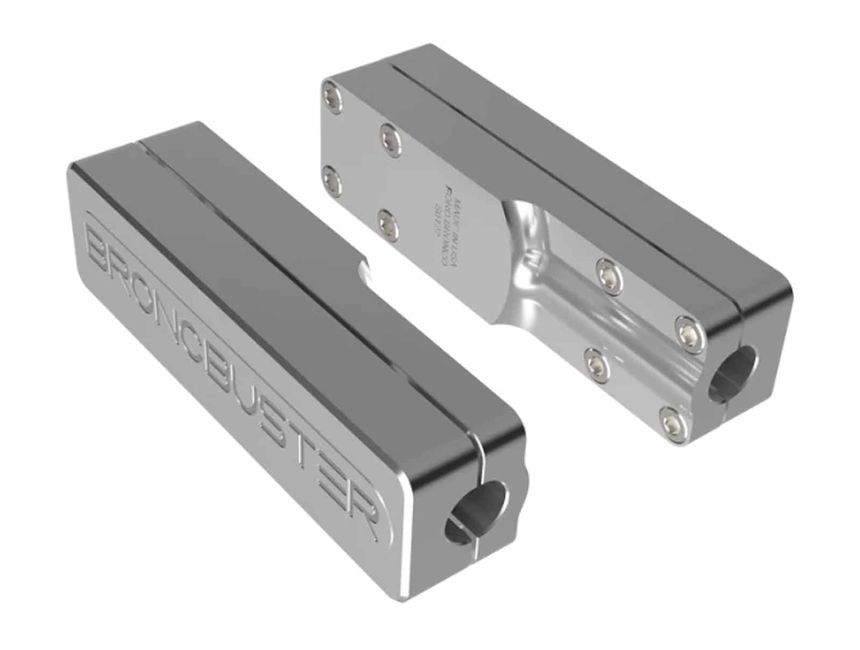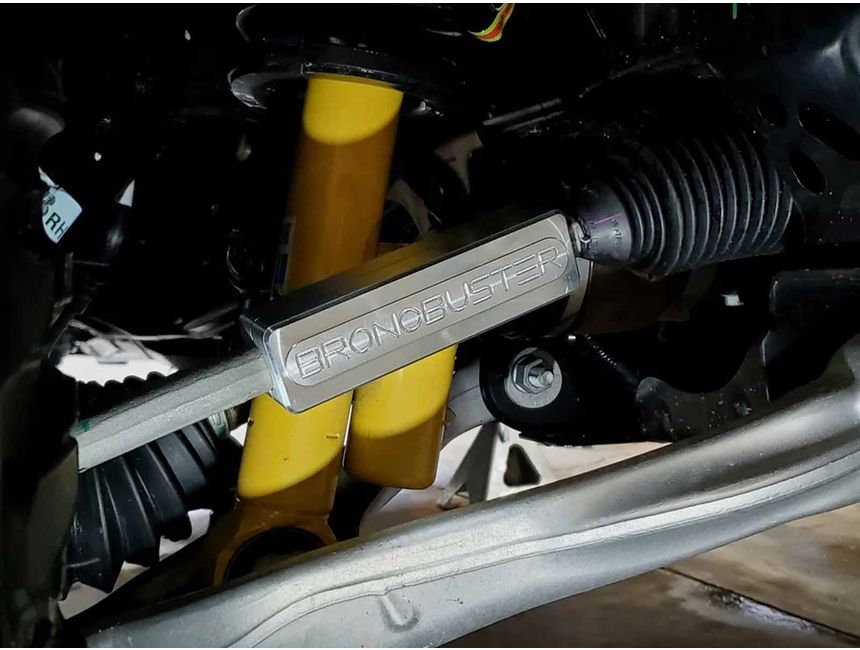 BroncBuster Tie Rod Brace
Made in the USA
description

install

warranty

reviews

Q&A
description
Reinforces the Bronco's tie rod at its weakest point
Designed for stock Bronco coils
T6061 aluminum construction
Ideal for off-roading and lifted vehicles
Sold in pairs
The tie rods on the 6th generation Ford Bronco aren't always up to the trials of navigating varied off-road terrain. By equipping your Bronco with BroncBuster's BusterBraces, you'll take an important step toward augmenting your vehicle's off-road durability. Each brace is made of t6061 aluminum and acts as a splint for the tie rod at its weakest point. This simple add-on could mean the difference between driving home under your own power or someone else's. Beef up your Ford Bronco with BroncBuster BroncBraces.
Our Guarantee
Truck Experts a Call Away
California Residents: 
Prop 65 Warning
install
BroncBuster tie rod braces are a very quick install. As they just clamp over the tie rod, and you tighten then down. But if you have questions about the install. Please reach out to us our tech team would be happy to help out.
warranty
BroncBuster Warranty
BroncBuster provides a lifetime warranty on all its machined mechanical Products. If any Product fails to comply with this warranty, BroncBuster shall reimburse the cost of the Product as provided by the Warranty Program below.
BroncBuster warranty "AGAINST BREAKAGE". Warranty against mechanical failure of the product for the original purchaser only.
"Mechanical failure" is defined as failure of a component function while operating under design constraints. BroncBuster reserves the right to deny any claim if the product is shown to be incorrectly installed or subject to collateral damage of surrounding components. BroncBuster is not responsible for any additional collateral damages to any components caused by or related to a BroncBuster product. BroncBuster is not responsible for any shop/labor hours related to installation or replacement of BroncBuster product.
All claims are subject to review and acceptance by BroncBuster in its sole discretion.
A photo of the damaged part will be required to complete warranty submission. Please have photos of the damaged components cleaned, clearly showing the broken part. Warranty claims without the photos will not be accepted or processed.
Warranty Exclusions:
Normal wear and tear
Intentional or willful destruction of product
Damage by casualty or due to accident, negligence, abuse, or misuse in shipping or use
Subjected to abnormal operation conditions
Stripped threads
Alteration or modification of the product
Failure from improper installation
Failure from other than intended use
Claims Procedure
BroncBuster's obligation to review any warranty claim is subject to the following conditions:
The claim must be submitted by BroncBuster's direct customer, to BroncBuster at BroncoBuster1977@gmail.com within 90 days from the date of the failure and must include the following information:
Part number or application Make/Model/Year
Part description
Tire size (if applicable)
Additional product damage information
Conditions of use (Competition/Recreation/Work)
Remedy
BroncBuster shall reimburse:
The cost of parts only (subject to pre-established prices) to repair the Product; or
The cost of the replacement Product, whichever is less.
The following are not reimbursable under BroncBuster's warranty:
Towing expenses
Meal and lodging expenses
Travel time or transportation expenses
Downtime expenses
In all cases BroncBuster shall make the final determination as to the appropriate reimbursement for any warranty claim.
If requested, the Product must be returned, freight collect, to BroncBuster for examination. BroncBuster shall determine that none of the above warranty exclusions apply and that the Product was defective when originally delivered to the purchaser. BroncBuster's determination of warranty coverage shall be final in all cases. BroncBuster reserves the right to reject a warranty claim for any of the following reasons:
Original claim was filed after 90 days from the date of failure.
Claim information is insufficient.
Product was not returned for inspection as requested.
Product inspection does not substantiate claim or indicate a failure.
Damage due to accident, negligence, abuse or misuse.
Warranty Disclaimer
BRONCBUSTER'S WARRANTY HEREIN IS EXCLUSIVE AND GIVEN IN PLACE OF (a) ALL OTHER WARRANTIES FOR THE PRODUCTS, EXPRESS, IMPLIED OR STATUTORY, WHETHER WRITTEN OR ORAL, INCLUDING, BUT NOT LIMITED TO, ANY WARRANTIES OF MERCHANTABILITY OR FITNESS FOR PARTICULAR PURPOSE OR IMPLIED WARRANTIES ARISING FROM PERFORMANCE, COURSE OF DEALING OR USAGE OF TRADE, AND (b) ALL OTHER OBLIGATIONS, LIABILITES, RIGHTS, CLAIMS OR REMEDIES RESPECTING THE PRODUCTS, INCLUDING, BUT NOT LIMITED TO, ANY RIGHTS IN CONTRACT, TORT, OR STRICT LIABILITY AND ANY RIGHT ARISING FROM BRONCBUSTER'S NEGLIGENCE, ACTUAL OR IMPUTED. BRONCBUSTER'S OBLIGATIONS AND PURCHASER'S REMEDIES HEREIN ARE LIMITED TO THE REIMBURSEMENTS DESCRIBED ABOVE AND BRONCBUSTER SHALL NOT BE LIABLE FOR ANY INCIDENTAL, SPECIAL, CONSEQUENTIAL AND OTHER DAMAGES, INCLUDING, BUT NOT LIMITED TO, ECONOMIC LOSS, LOST REVENUE, LOST PROFITS, OR LOSS OF USE OR DAMAGE TO OTHER PROPERTY.
Governing Law
This warranty shall be governed, interpreted and construed by and in accordance with, the laws of the State of Texas and all proceedings to interpret or enforce this warranty shall be brought exclusively in a state or federal court in Texas with jurisdiction.
reviews
Q&A