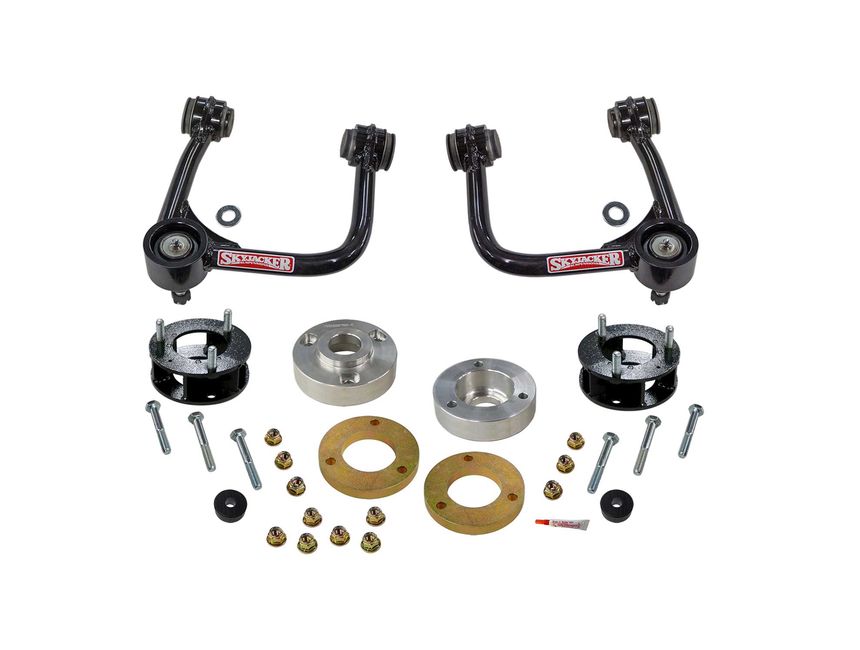 Skyjacker UCA 3" Lift Kit
Made in the USA
description

warranty

reviews

Q&A
description
100% bolt on
Ball joints are greaseable
Upper control arms are high strength DOM tubing
A-arm ball joint has been designed to mimic the same geometry as factory when lifted
Upper control arms have gussett plates added for rigidity & strength
Works properly with electric stability control (ESC) system.
Comes with a limited life time warranty
Skyjacker's 3" upper control arm lift kits are 100% bolt on. Making this kit easier to take on or off if you like. Also giving you that lifted look without sacrificing your factory ride.
This lift kit comes with a set of Upper Control Arms that are made of high strength DOM tubing to withstand whatever the roads throw at you, and a gusset plate stiffener is welded in between the Control Arms for added rigidity and strength. You will also optimize and improve the steering geometry and strength of your vehicle with a pair of Skyjacker Upper Control Arms. With the revised steering geometry, you get increased suspension travel. Meaning longer life out of your suspension components. Also, for peace of mind Skyjacker offers a limited lifetime warranty to go with the lift.
Comes in 4 different rear shock combinations. Skyjacker's 3" UCA lift kit is what your truck is asking for. Order one today!
Our Guarantee
Truck Experts a Call Away
California Residents: 
Prop 65 Warning
warranty
SKYJACKER® warrants to the original retail purchaser that its suspension products, shocks, and steering stabilizers are free from defects in material and workmanship for as long as that purchaser owns the vehicle on which such products were originally installed. Suspensions not used in conjunction with SKYJACKER® shock absorbers may void the warranty. Products installed on a vehicle used in any form of competition or racing are not covered by this warranty, and the warranty shall extend only 1 year on commercial vehicles. Warranty on tie rod ends, u-joints, drag links, and such shall not exceed 1 year. Skyjacker's rebuildable rod ends and coil-over shocks, both being made serviceable in design, are not replaced under this warranty, but rebuild kits are offered for a period of 1 year and can be purchased after 1 year.
This limited lifetime warranty does not apply to products characterized by one or more of the following:
1) Products that have been subject to abuse, neglect, accident, fire, improper installation or adjustment, and corrosion.
2) Products that have been modified or altered outside of or beyond SKYJACKER® specifications.
3) Products used in application other than those recommended in the current SKYJACKER® catalog or in the instructions accompanying the product.
4) Products that are used for competition or racing activities.
5) This limited lifetime warranty does not include polyurethane components, product finish, and any conditions caused by normal wear and use.
In a situation where a SKYJACKER® product is found to contain a defect in material or workmanship within the stated warranty period (unless caused by one or more of the above stated conditions), SKYJACKER®, at its option, will either replace the product or repair the product. To make a claim under this limited lifetime warranty, purchaser must:
1) Call SKYJACKER® at (318) 388-0816 for customer service to receive a return authorization number which must be written on the outside of the product's package.
2) Include the original purchase receipt (or copy) indicating the place of purchase,date of purchase, and amount paid.
3) An authorized SKYJACKER® dealer must inspect the product and confirm that the "Driver Warning" decal is properly displayed, and
4) Return the product, freight prepaid to the place of business originally purchased.
Each of these above mentioned terms must be met in order to qualify for warranty coverage. Freight charges, installation cost, labor cost, damage to related components, cost incurred due to down time of vehicle, normal wear and tear, lost profits and incidental or consequential damages are not covered under this lifetime warranty. If any questions exist in regard to this limited lifetime warranty, please write to:
SKYJACKER SUSPENSIONS®
Attention: Customer Service Department, P.O. Box 1678, West Monroe, Louisiana 71294, or call our office at (318) 388-0816.
reviews
Q&A