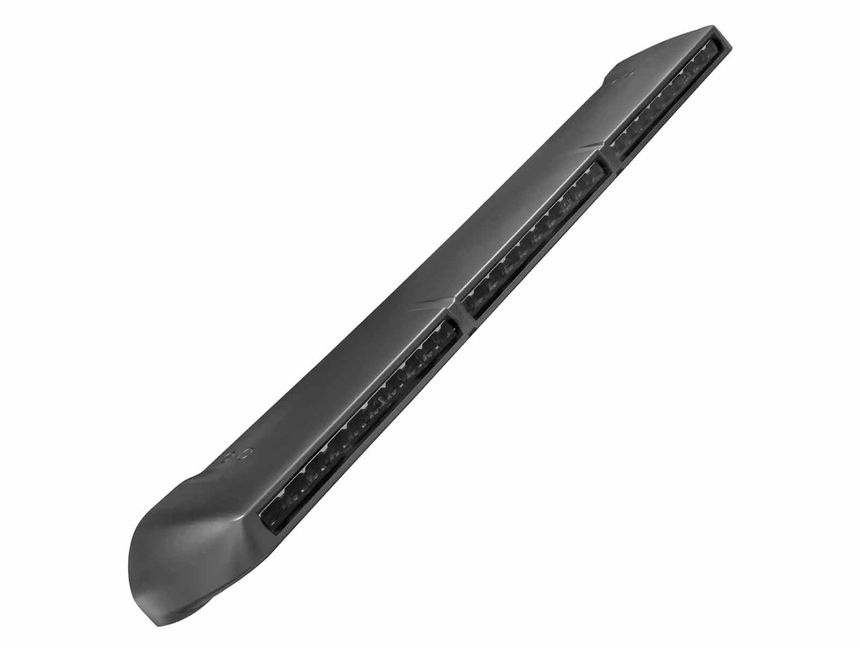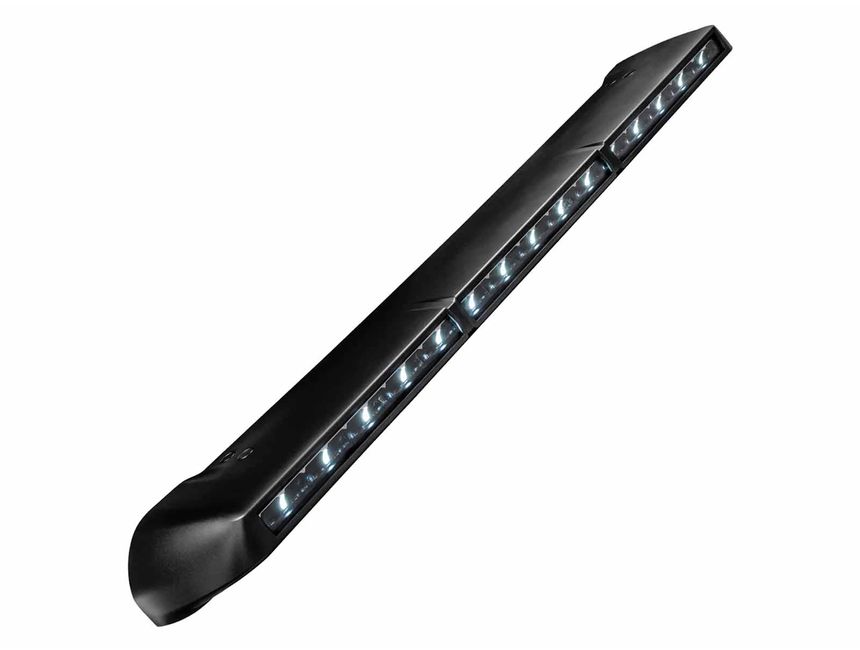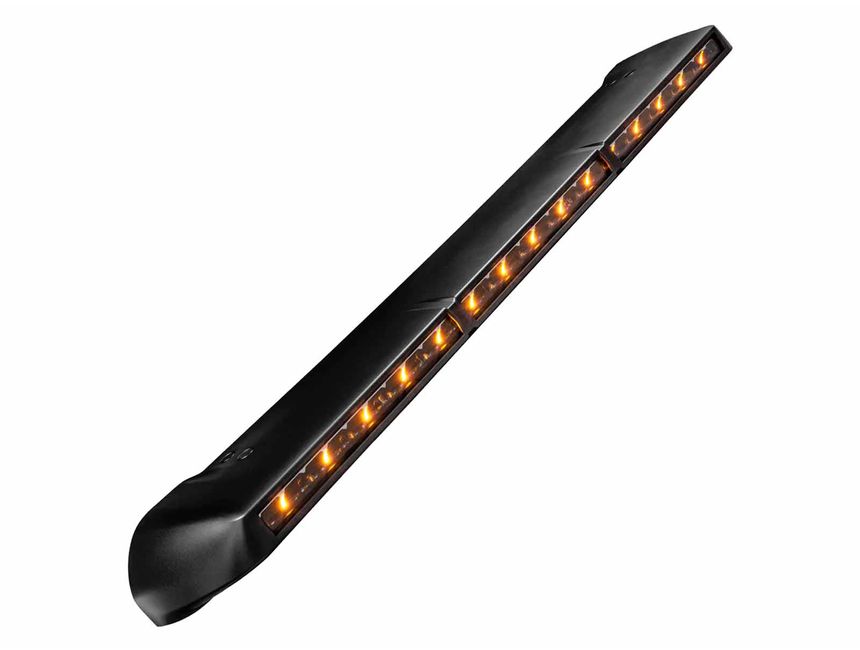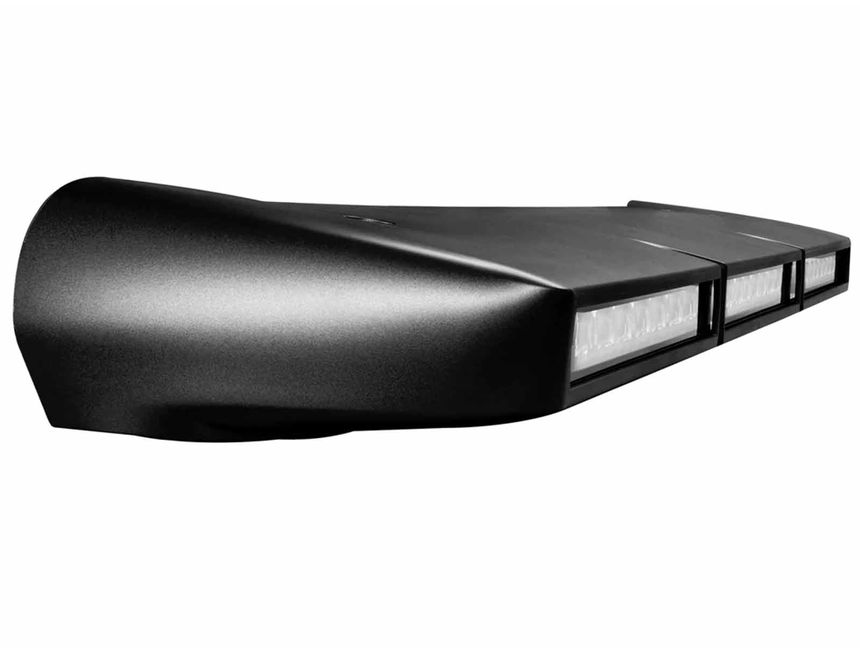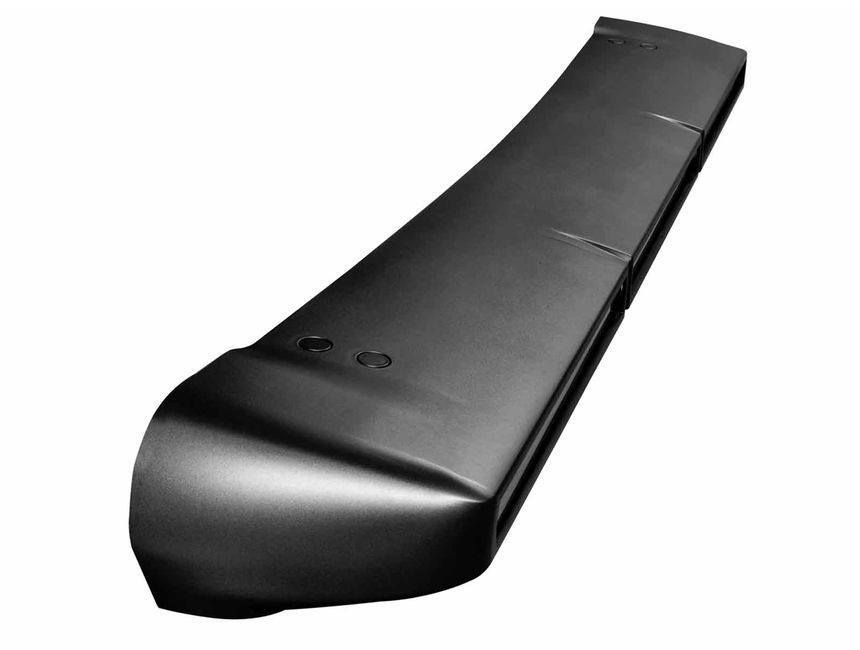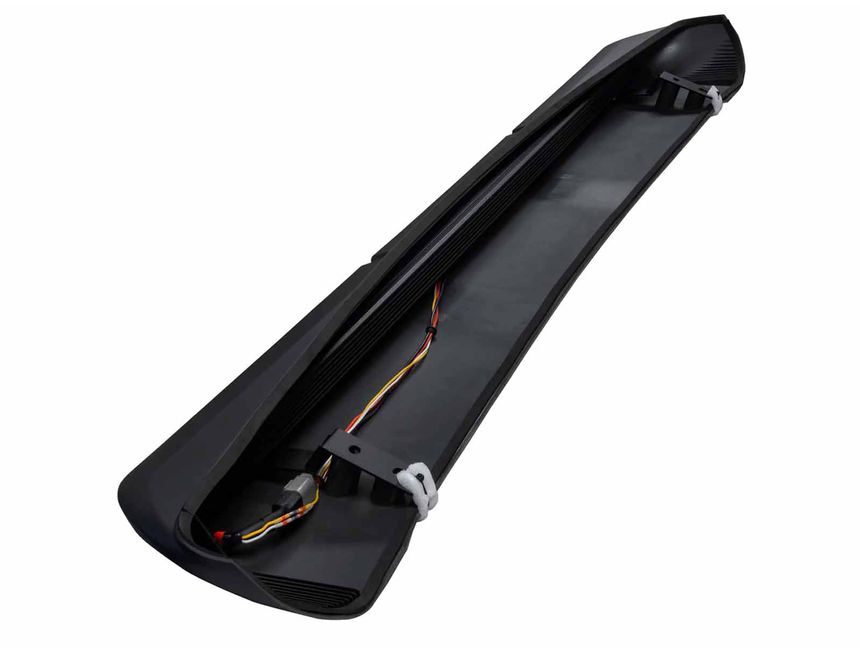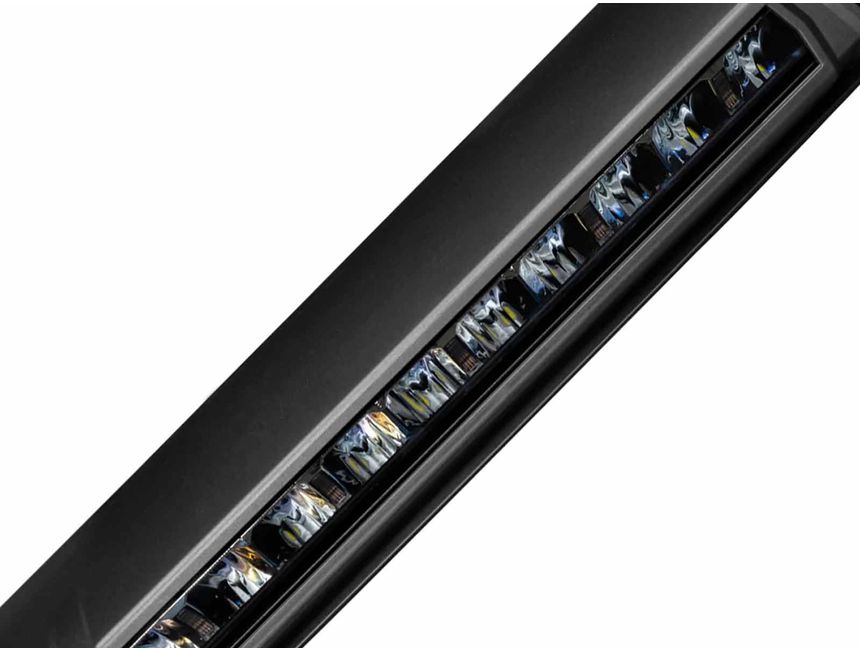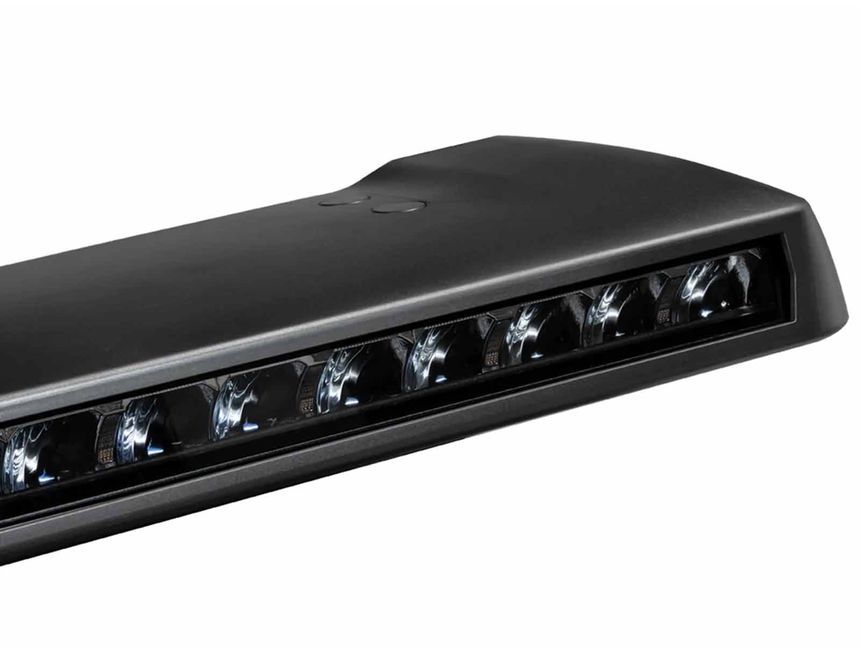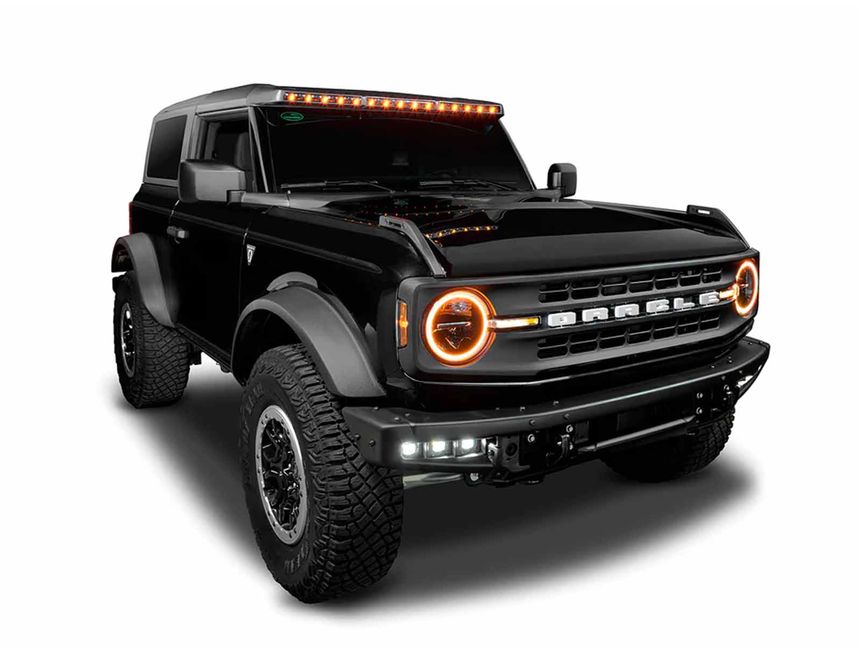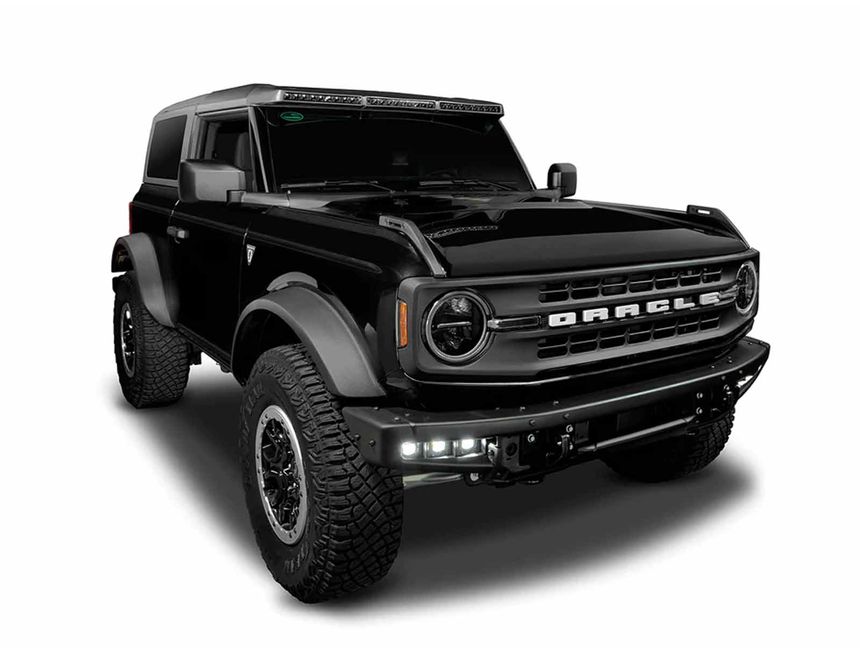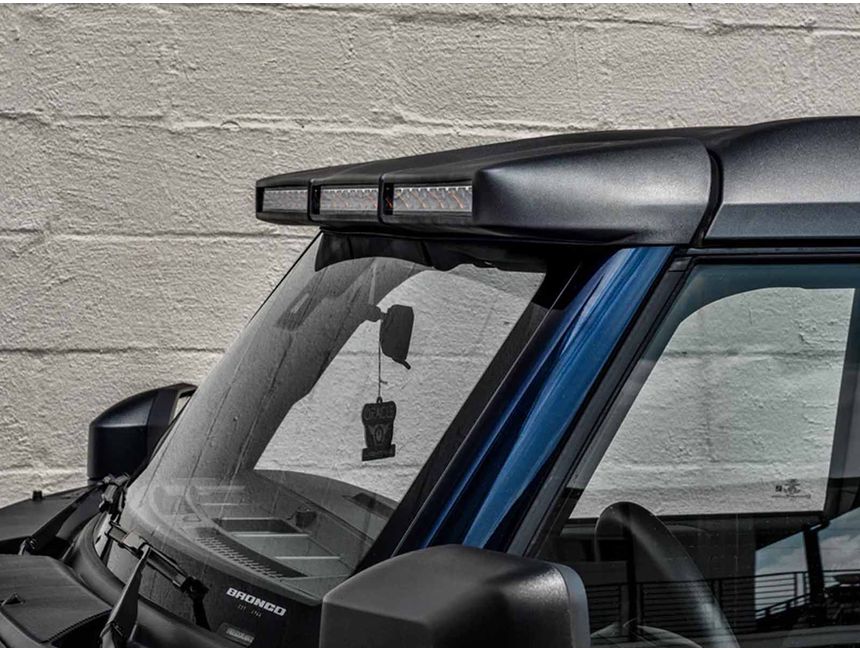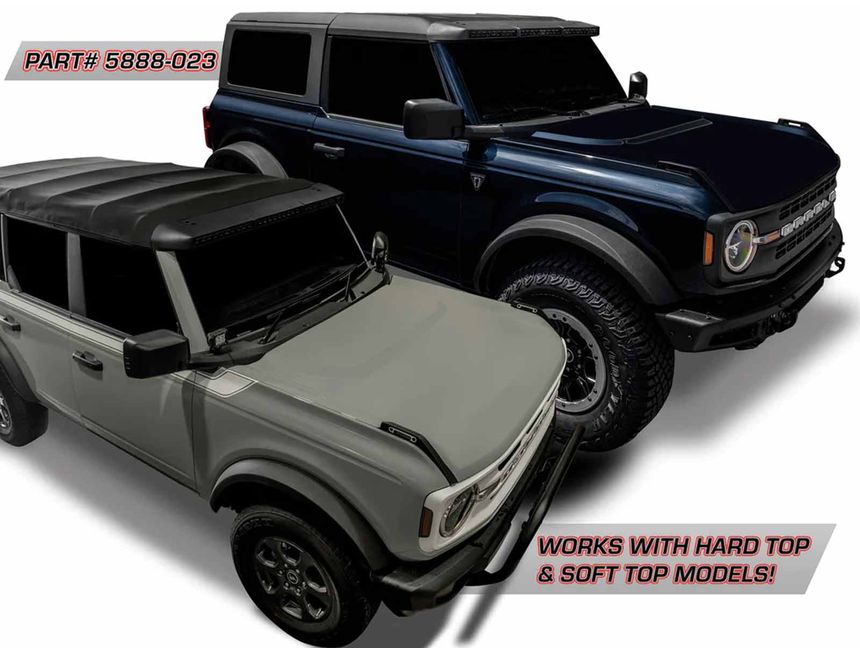 Oracle Windshield LED Light Bar
description

install

warranty

reviews

Q&A
description
Aerodynamic Integrated Housing Design
High-Powered Lighting 30x 8W LED Main Light
Selectable Amber or White Clearance Lights
Precision LED Reflector-Facing Technology
DIY Install- No Fabrication/ Modification Required
Mounts using Factory Hardware
Under/Over Voltage and Reverse Polarity Protection
Electronic Thermal Management
Innovative Patent-Pending Design
Designed and Engineered in the USA
LED Lifespan 50,000+ Hours/ 1 Year Warranty
Are you looking for a way to have your Bronco stand out from the crowd but still following those classic factory lines? Well look no further then Oracle windshield LED light bar. Blending in with the factory design, the unique cowl design also provides a quieter and more aerodynamic installation compared to traditional LED light bar setups. The polycarbonate housing is designed to match the styling of the factory hardtop but can be installed on soft top Broncos as well, it even retains all functionality when you might want to go topless.
Their light bar isn't just meant for looks. It packs 30 8W LEDs emitters creating at total of 18,000 raw lumens. With a distance of over 650 yards. Light also give you the option to select amber or white clearance lights. Installation is straight forward. Installing onto factory points and wiring into factory auxiliary switches. Also, if you're wanting to match your factory paint carbonized grey model is paintable.
So, if you're looking for something unique for your Bronco. You can't go wrong with Oracle Windshield LED Light Bar. Order one today!
Our Guarantee
Truck Experts a Call Away
Spec Sheet
| | |
| --- | --- |
| Warranty | 1 Year Limited Warranty |
California Residents: 
Prop 65 Warning
install
Oracle windshield LED light bar install directly up to factory locations. Oracle also supplies new windshield wipers to work with the new visor. Wiring is straight forward as its meant to install using your factory Aux switches. Oracle supplies instructions and for extra help a video also.
warranty
1 & 2 YEAR LIMITED WARRANTY INFORMATION ORACLE Lighting will replace or repair any defective part free of charge once defect is confirmed. If you have an issue with any product, we will diagnose the issue with you, and you may be required to answer questions or assist in the diagnosis. ORACLE Lighting reserves the right to have the product manufacturer inspect, test, and diagnose the defective part to see if the defect was due to factory error or customer negligence. Returned parts may be exchanged or repaired at the discretion of the manufacturer. As with any product that deals with electronics, we recommend that the parts are installed by a trained professional. Trained professionals are defined as any certified ASE mechanic or trained automotive technician certified in car stereo or alarm installation. ORACLE Lighting will not be responsible for any damages to a customer's vehicle caused by a third party installer. ORACLE Lighting does not cover labor fees associated with the removal or re-installation of products. We have a selection of replacement parts to provide customers with when utilizing their warranty. This does not guarantee a brand new item but a functioning part.
reviews
Q&A