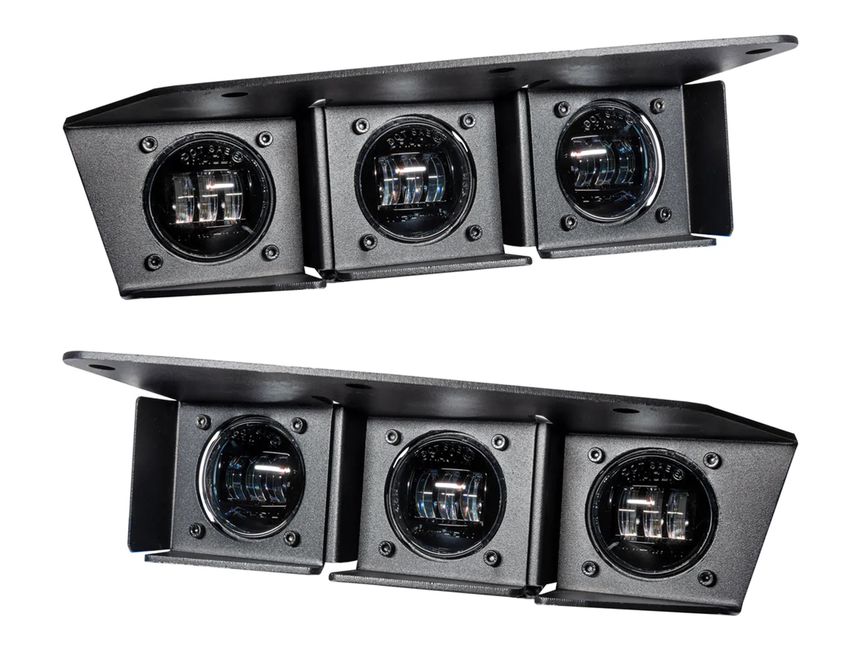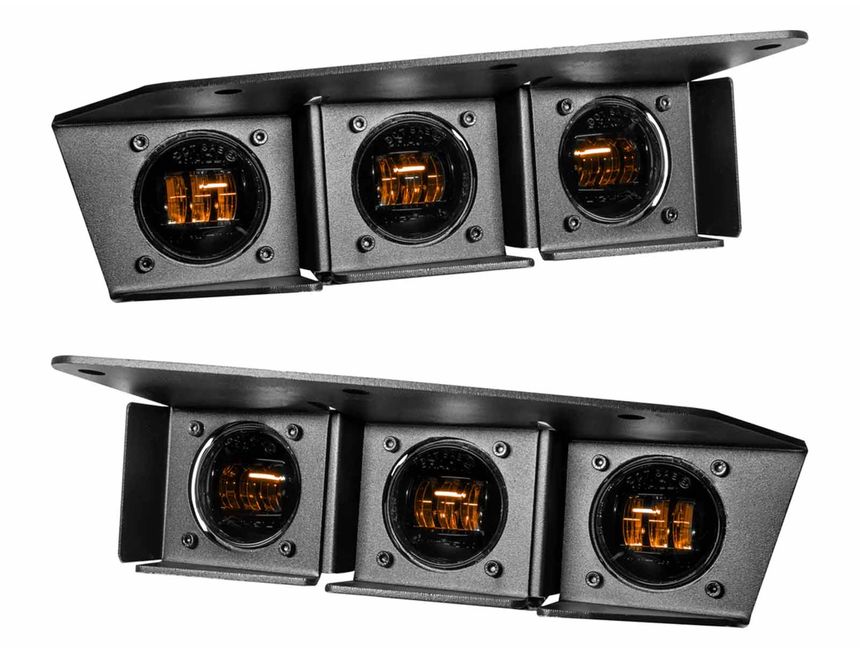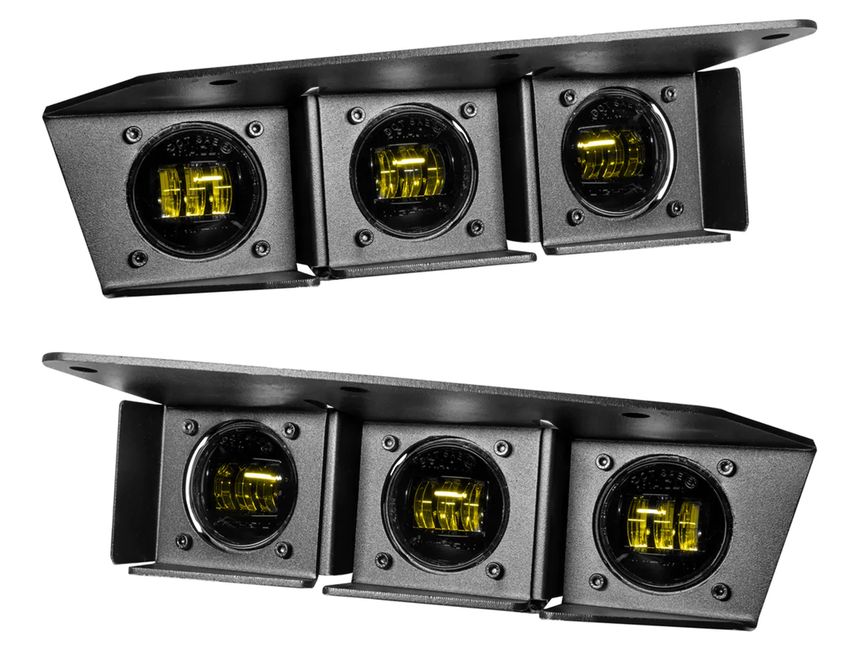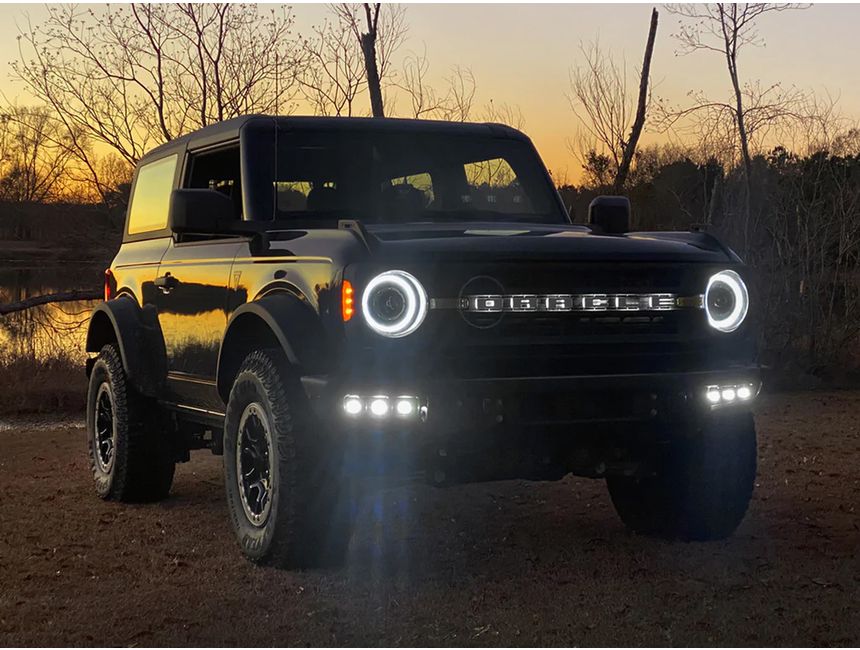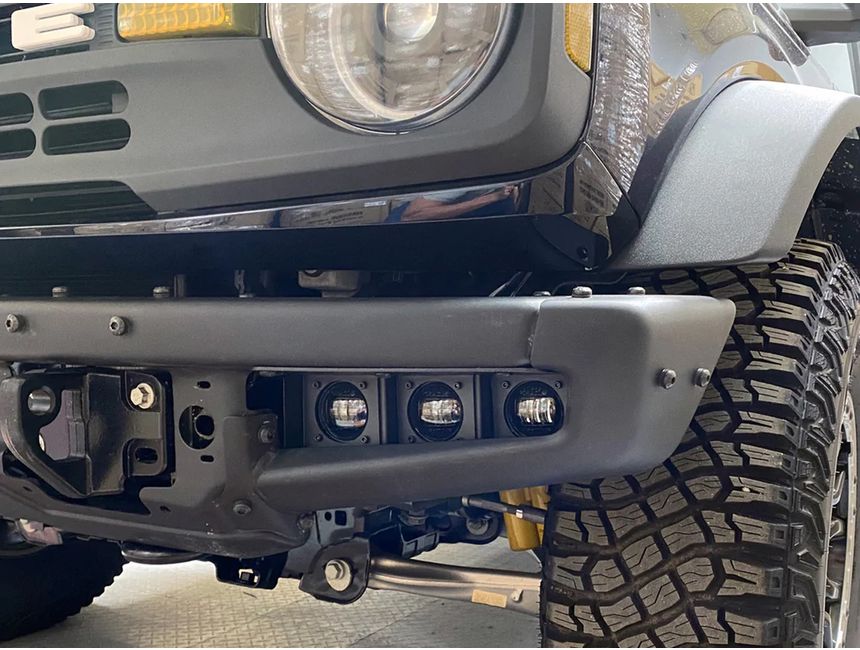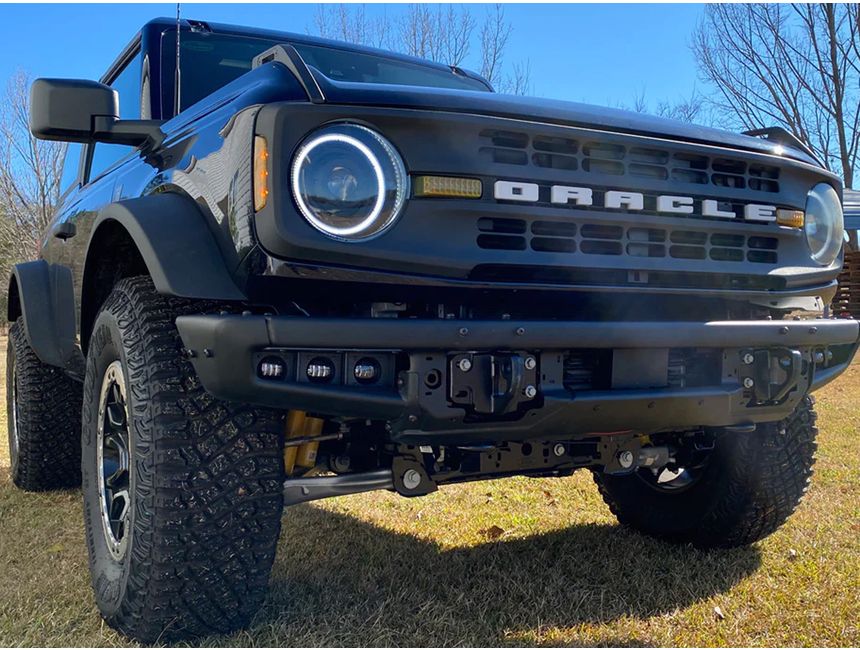 Oracle Triple LED Fog Light Kit
description

install

warranty

reviews

Q&A
description
High-powered LED lighting from six emitters
Easy install- no drilling/ modifications required
Switched relay wiring harnesses included
Emitters feature blacked-out design
High quality 1/8" thick steel plate
Galvanized anti-rust treatment
Black powder coat finish
Mounts using factory hardware
Engineered and assembled in the USA
Two Year Warranty
Are you looking for a way to upgrade your factory lighting while keeping that great factory look? Please let us introduce you to Oracle Triple LED Fog Light Kit. Featuring six high powered LED light emitters. Coming in white or yellow beam color. And pumping out a whopping 6000 raw lumens to light up the night. Lights all mount to high quality powder-coated steel bracket. Designed to make installation a breeze.
The simple bolt-on installation uses factory bolt locations and requires no drilling or modifications. Typical installation time is under 30 minutes and can be successfully installed using common hand tools by even the most casual enthusiast.
So, if you are looking for a fast and easy way to upgrade your lighting for the trails and road. Look no further then Oracle Triple LED Fog Light Kit. Order your set today!
Our Guarantee
Truck Experts a Call Away
Spec Sheet
| | |
| --- | --- |
| Warranty | 2 Years |
| Bulb Type | LED |
California Residents: 
Prop 65 Warning
install
Oracle Triple Fog Light Kits are straight forward install. Mounting to factory locations with no need to drill or modify. Oracle supplies instructions and install video. But if you still have questions. Please reach out to our tech team they would be happy to help.
warranty
1 & 2 YEAR LIMITED WARRANTY INFORMATION
ORACLE Lighting will replace or repair any defective part free of charge once defect is confirmed.
If you have an issue with any product, we will diagnose the issue with you, and you may be required to answer questions or assist in the diagnosis.
ORACLE Lighting reserves the right to have the product manufacturer inspect, test, and diagnose the defective part to see if the defect was due to factory error or customer negligence.
Returned parts may be exchanged or repaired at the discretion of the manufacturer.
As with any product that deals with electronics, we recommend that the parts are installed by a trained professional. Trained professionals are defined as any certified ASE mechanic or trained automotive technician certified in car stereo or alarm installation.
ORACLE Lighting will not be responsible for any damages to a customer's vehicle caused by a third party installer. ORACLE Lighting does not cover labor fees associated with the removal or re-installation of products.
We have a selection of replacement parts to provide customers with when utilizing their warranty. This does not guarantee a brand new item but a functioning part.
Pre-Assembled Lights sold by Oracle: Oracle Lighting builds and tests all lights before they leave our facility. A photo of the completed lights can be emailed to the client before shipping if they request so.
ORACLE Lighting does not ship replacement headlights, we repair the original set of lights on which the work was completed.
Lights supplied to Oracle for custom work: Oracle Lighting reserves the right to deny warranty against moisture if the factory seal is in poor condition, in this case, the customer will be notified prior to performing the customization. For more detailed information refer to the terms HERE
ORACLE Lighting does not offer warranty on purchases made from unauthorized vendors or companies listed on our Do Not Sell list.
When a kit or product is discontinued and still within the warranty coverage period, a substitute product will be offered by our customer service team to replace the part. If the replacement part does not fully match the rest of the functioning parts of the kit already installed, we can offer a quote and special discount to purchase the additional components as needed.
We are constantly making improvements to our product line, please note warranty only covers repairs or replacement parts for the original part purchased.
ORACLE Lighting reserves the right to make changes to its warranty policy at any time.
SHIPPING
After diagnosis and troubleshooting:
• If a product is not required to be returned, customer will only cover the shipping fee of replacement part.
• If a product is required to be returned to manufacturer for inspection or repair, customers in the lower US states will be provided with a pre-paid return shipping label to do so.
After inspection of the merchandise, if it is found not to be defective and in working condition, customer will be responsible for return expenses of such item.
*International customers are responsible for all shipping charges, including duties and taxes.
Shipping damage is the responsibility of the shipping company. If no additional insurance is purchased, the customer will be responsible to purchase a replacement of the damaged item.
WHAT WILL VOID MY WARRANTY?
Warranty does not cover damage due to improper installation.
Oracle Lighting will, subject to customer's compliance with the return procedures set forth below, repair or replace the hardware found not to operate in accordance with the hardware specifications, so long as customer has properly operated the hardware and used it in conformance with such specifications.
Warranty is not transferable. If the product is removed, uninstalled, transfers ownership, or is otherwise parted from its original installation, then warranty becomes void.
Broken or cracked products are not eligible for repair or replacement.
We understand that some products may be modified in the course of installation or use by the customer to suit a particular need. However, opening, disassembling, cutting, altering, extending wires, or otherwise modifying any product in a manner that compromises the functionality of the item will void the product's warranty.
Warranty does not cover scratches, scuffs, etc. due to normal wear and tear of any product.
reviews
Q&A