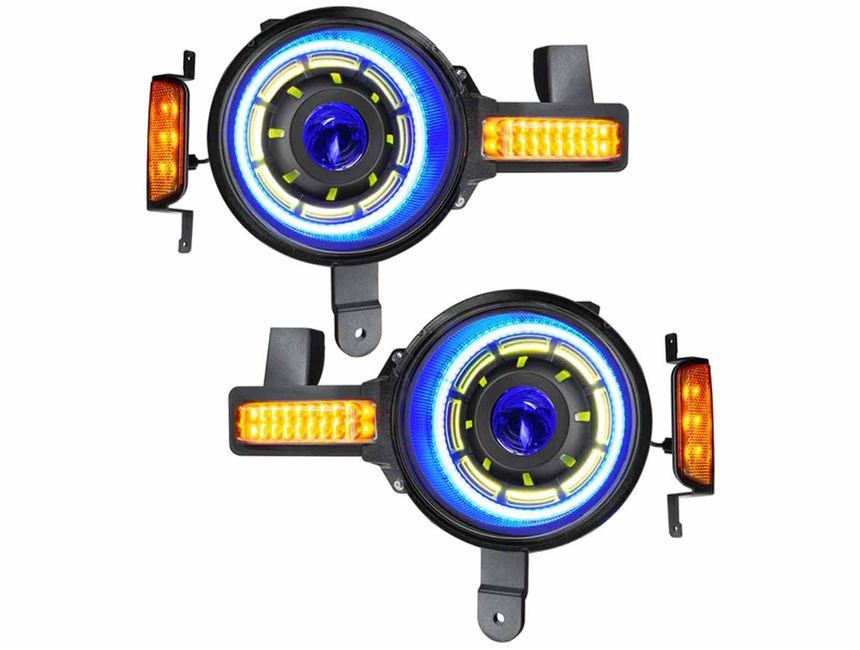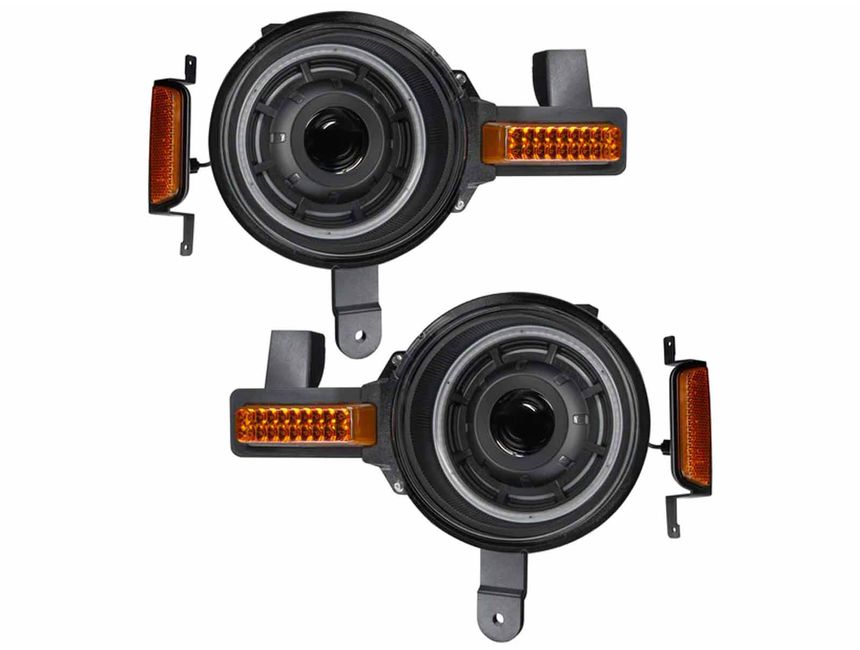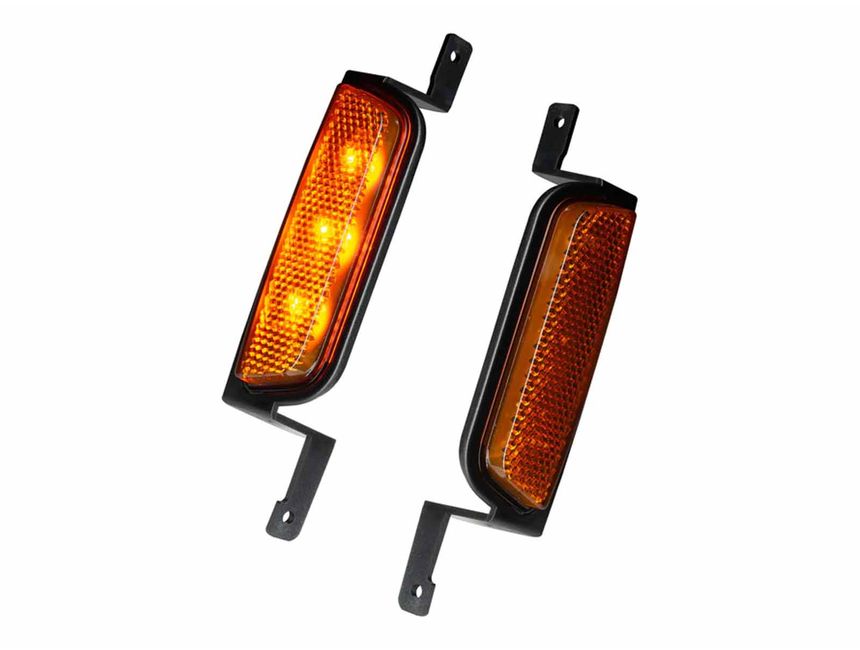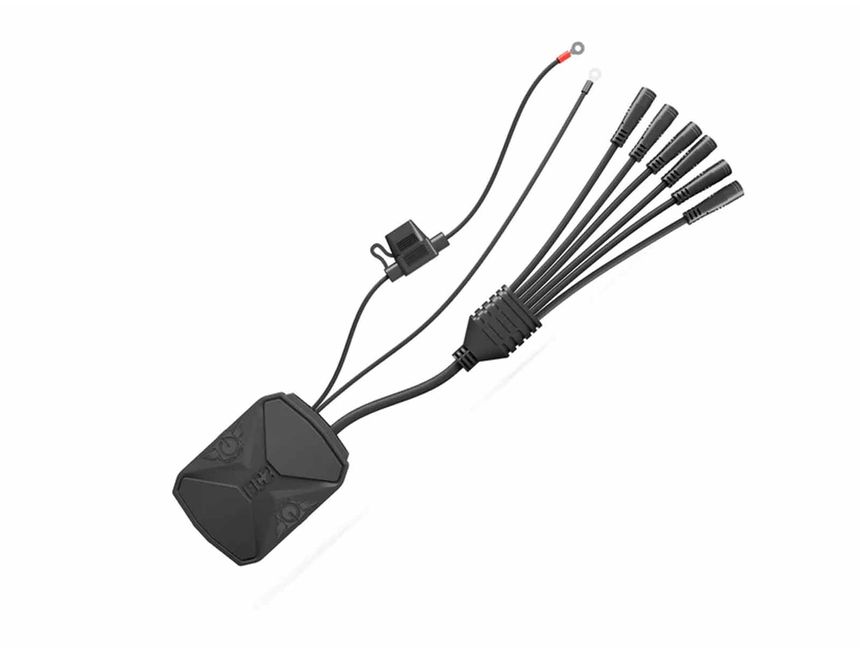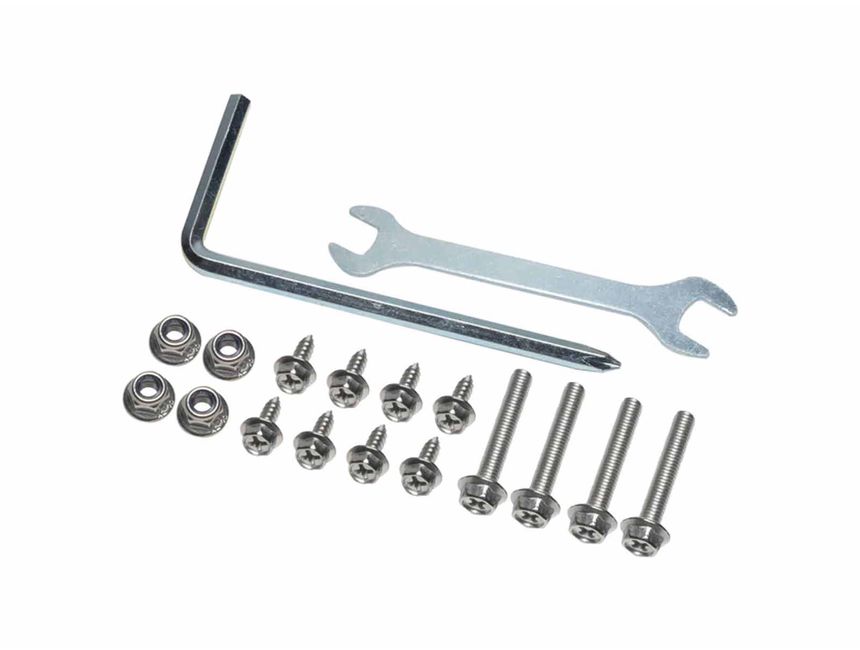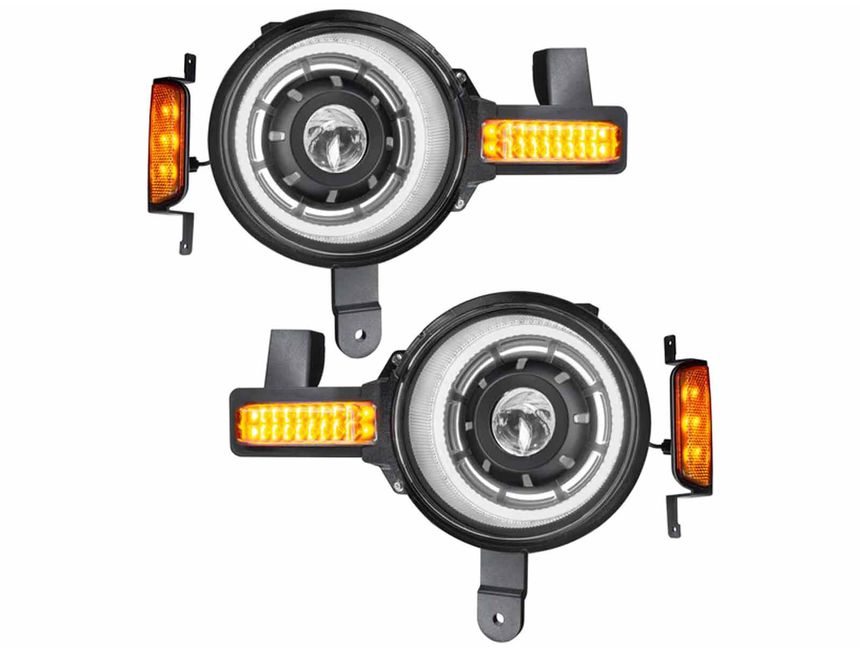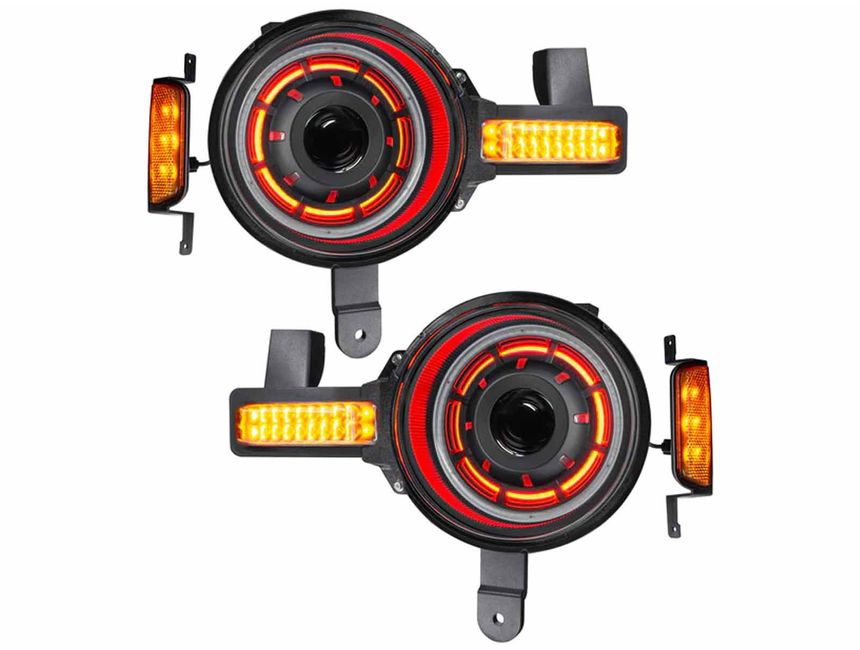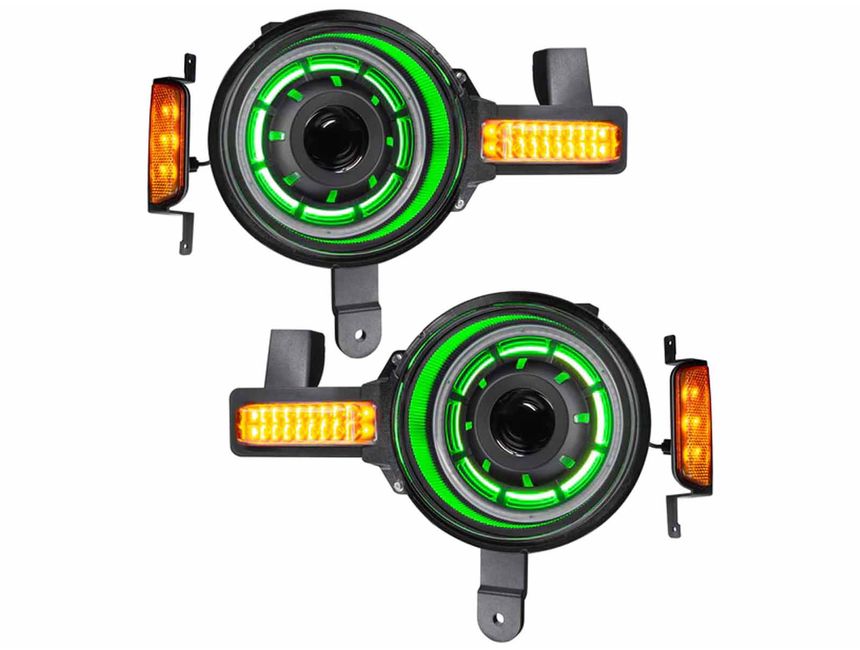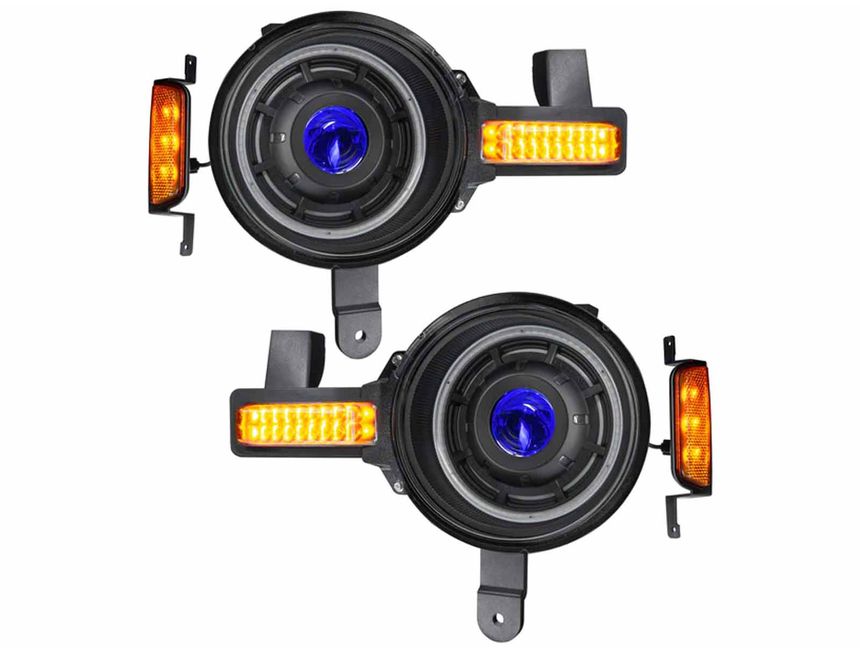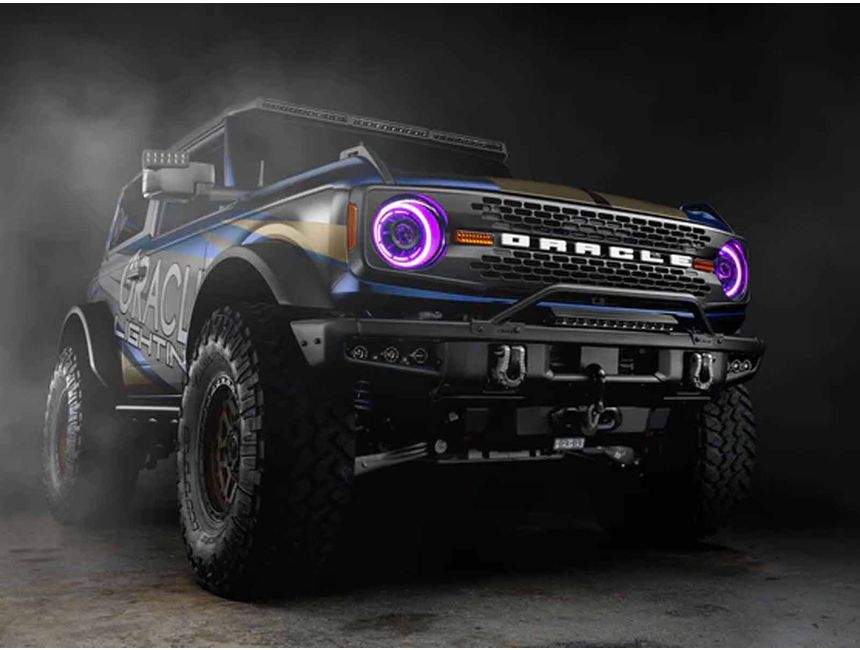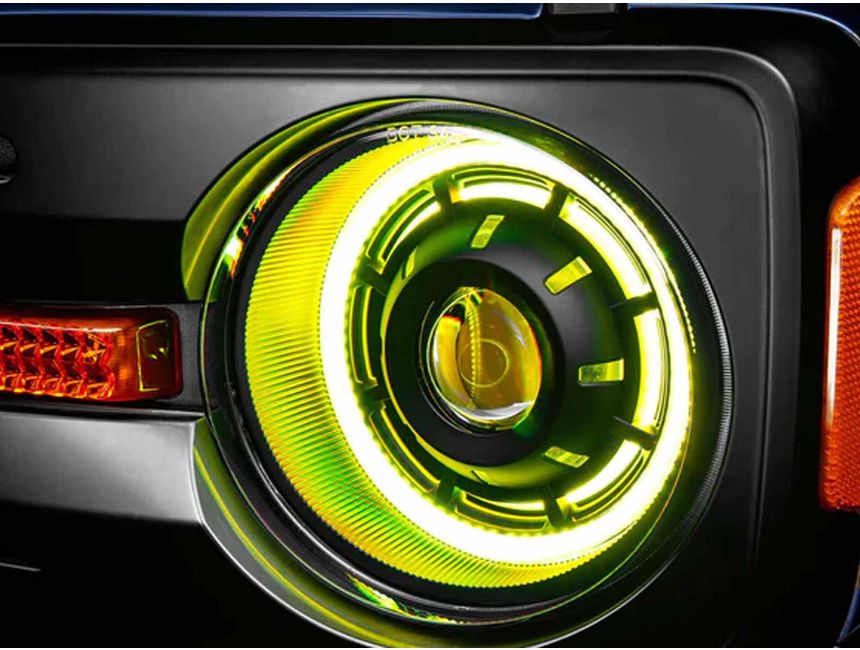 Oracle ColorSHIFT Oculus Bi-LED Projector Headlights
description

install

warranty

reviews

Q&A
description
Great look to set off the new Broncos Dedicated white DRL LED on outer halo RGB inner halo and projector demon eye, RGB+W outer halo * Two-year warranty
Oracle's ColorSHIFT Oculus Bi-LED projector headlights give you limitless options for customizing your Broncos headlight colors. Perfect for off-road and show vehicles, these headlights have three distinct LED zones, which can be wired together so they all display the same color or separately for a dynamic light show. A dedicated white LED DRL is included in the outer halo and can be wired to a switch or to turn on with your engine. Choose from a variety of ColorSHIFT controllers to tailor these RGB headlights to your specifications.
Make your Bronco stand out from the crowd with Oracle ColorSHIFT Oculus Bi-LED projector headlights.
Our Guarantee
Truck Experts a Call Away
California Residents: 
Prop 65 Warning
Order Notes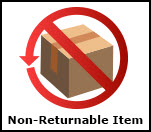 Custom built "made to order" products are not eligible for cancellations, refunds or returns (except in the case of warranty). Oracle's warranty policy is repair or replace. If you have any questions and need help ordering, please call. We want to make sure your lights are ordered correctly to ensure that you get the right headlights for your vehicle.
install
Installing a set of headlights is a fairly complicated task. Rest assured, the detailed instructions sent with your halo kit from Oracle will be easy to follow. If you have any questions or would like additional information, please feel free to reach out to our customer service department
warranty
1 & 2 YEAR LIMITED WARRANTY INFORMATION
ORACLE Lighting will replace or repair any defective part free of charge once defect is confirmed.
If you have an issue with any product, we will diagnose the issue with you, and you may be required to answer questions or assist in the diagnosis.
ORACLE Lighting reserves the right to have the product manufacturer inspect, test, and diagnose the defective part to see if the defect was due to factory error or customer negligence.
Returned parts may be exchanged or repaired at the discretion of the manufacturer.
As with any product that deals with electronics, we recommend that the parts are installed by a trained professional. Trained professionals are defined as any certified ASE mechanic or trained automotive technician certified in car stereo or alarm installation.
ORACLE Lighting will not be responsible for any damages to a customer's vehicle caused by a third party installer. ORACLE Lighting does not cover labor fees associated with the removal or re-installation of products.
We have a selection of replacement parts to provide customers with when utilizing their warranty. This does not guarantee a brand new item but a functioning part.
Pre-Assembled Lights sold by Oracle: Oracle Lighting builds and tests all lights before they leave our facility. A photo of the completed lights can be emailed to the client before shipping if they request so.
ORACLE Lighting does not ship replacement headlights, we repair the original set of lights on which the work was completed.
Lights supplied to Oracle for custom work: Oracle Lighting reserves the right to deny warranty against moisture if the factory seal is in poor condition, in this case, the customer will be notified prior to performing the customization. For more detailed information refer to the terms HERE
ORACLE Lighting does not offer warranty on purchases made from unauthorized vendors.
When a kit or product is discontinued and still within the warranty coverage period, a substitute product will be offered by our customer service team to replace the part. If the replacement part does not fully match the rest of the functioning parts of the kit already installed, we can offer a quote and special discount to purchase the additional components as needed.
We are constantly making improvements to our product line, please note warranty only covers repairs or replacement parts for the original part purchased.
ORACLE Lighting reserves the right to make changes to its warranty policy at any time.
reviews
Q&A