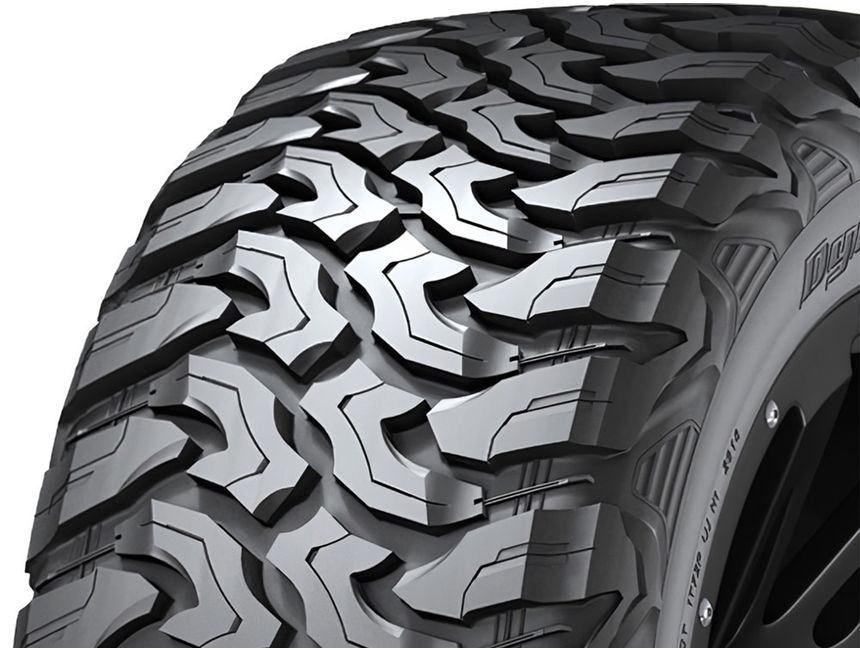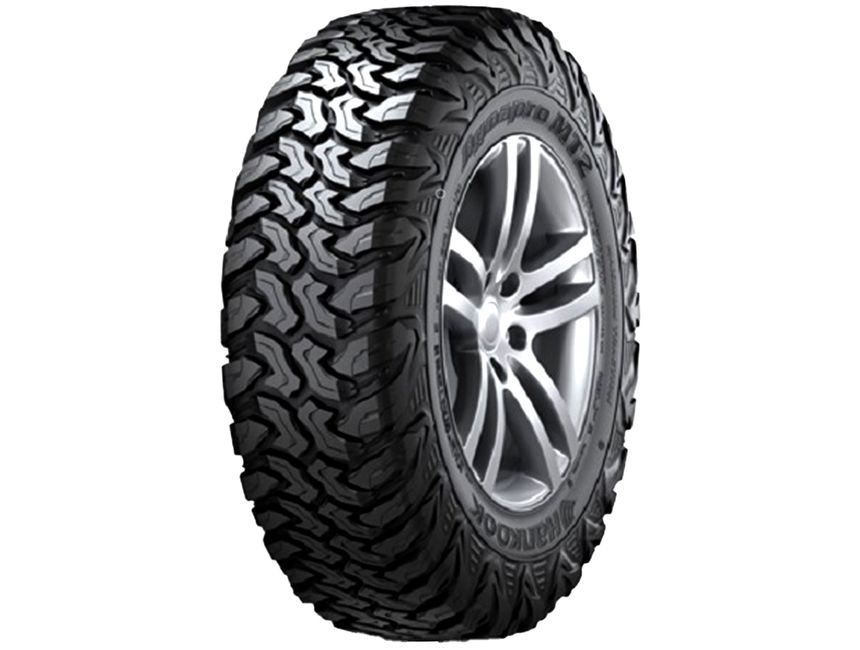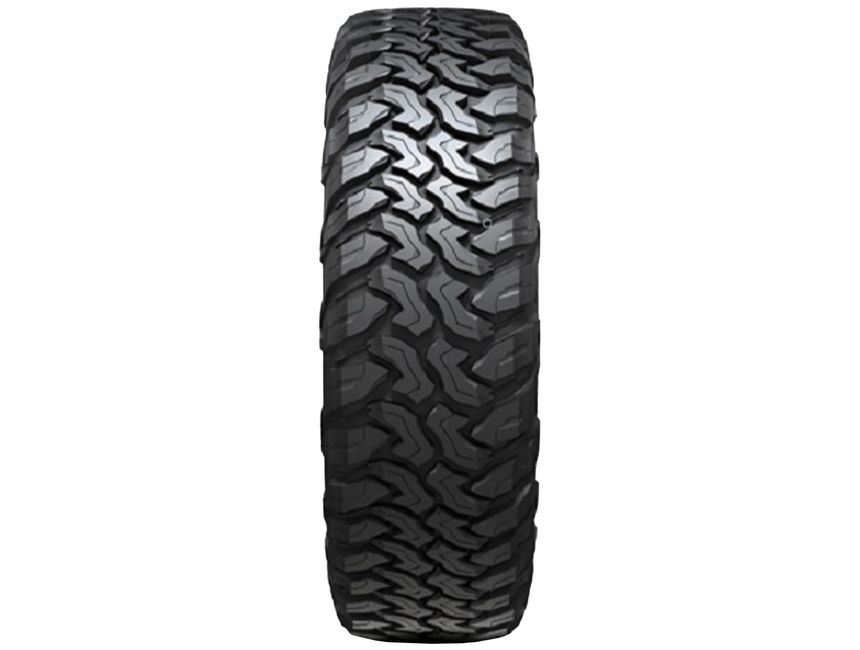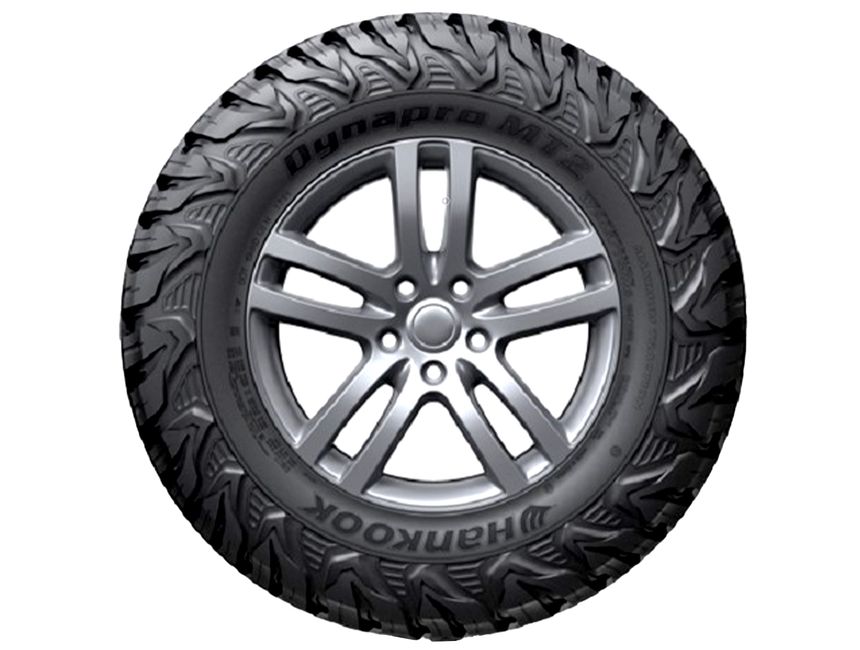 Hankook Dynapro MT2 Tires
description

install

warranty

reviews

Q&A
description
Mud terrain construction
Sidewall puncture protector
Massive tread design
Reinforced shoulders
Mud and stone ejectors
Oversided shoulder lugs
ProMileage structure
6 year manufacturer warranty
Hankook Dynapro MT2 Tires will take you anywhere you want to go with their massive tread design optimized by 3D engineering technology. The revolutionary design provides ultimate off-road traction without compromising on-road comfort. Sidewall puncture protectors are applied to protect the sidewalls from chips and tears on gravel and rocks. Reinforced shoulder lugs combined with the massive treads enhance traction in the toughest of the terrains. Mud and stone ejectors maximize grip by releasing mud and stones, as well as protecting grooves from puncture. The huge v-shaped shoulder lugs provide extra sidewall protection and off-road traction. These tires are built to last through Hankook's ProMileage technology, which maximizes road contact of tires and evenly distributes force during acceleration, braking, and cornering. The Dynapro MT2 tires are covered by Hankook's 6 year manufacturer warranty, so you can rest easy knowing you're covered. Take your truck to it's limits and get your Dynapro MT2 tires today!
Our Guarantee
Truck Experts a Call Away
California Residents: 
Prop 65 Warning
Order Notes
Ready to customize your ride? Great! Just keep in mind when ordering aftermarket wheels, tires and/or lift kits it will likely change the way your vehicle looks, handles, and performs from that of when it was originally equipped from the manufacturer. Customers understand that these changes will vary from stock standards which may result in different handling, visibility, and braking ability from the manufacturer's original equipment. When purchasing these products, you as the customer assume all risks associated with these changes. In some cases you will need to trim, cut or modify your vehicle to ensure proper fitment to help prevent rubbing or limited turning radius. All Wheels, Tires, Lift Kits are Non-returnable unless ordered incorrectly by a Havoc Off-Road consultant or if we shipped the incorrect product. Please feel free to call our Off-Road Experts for advice and support!
Lug nuts and TPMS Sensors are not included with wheel orders. New lug nuts are required to install aftermarket wheels.
Check out the lug nuts HavocOffRoad.com has available here - Lug Nuts.
Check out the TPMS sensors HavocOffRoad.com has available here - TMPS Sensors.
install
If you are changing your tire dimensions from stock you will want to have your speedometer & odometer recalibrated after installing your tires. Changing your wheel or tire size can affect the accuracy of your gauges as well as how your transmission shifts. If you have any questions or concerns please feel free to give us a call.
warranty
Warranty Terms
This limited warranty applies to the original purchaser of any new tire manufactured by HANKOOK Tire and Technology bearing Department of Transportation prescribed tire identification numbers. Eligible tires shall be used on the vehicle on which they were originally installed according to the vehicle manufacturer's or Hankook's recommendation. This warranty applies if all following qualification requirements are met:
The tire was purchased after January 1, 2020.
The tire is a size, load rating and speed rating equal to or greater than that recommended by the vehicle manufacturer.
The tire has not become unserviceable due to a condition listed under WHAT IS NOT COVERED.
The tire is 6 years from the date of manufacture or 6 years from the date of purchase, whichever benefits the customer.
What Is Covered And For How Long
Should any tire covered by this limited warranty become unusable due to a workmanship or material related condition during its usable tread life (more than 2/32nds remaining tread), Hankook will give a credit on the following conditions:
During the first 2/32nds of the original usable tread and one year from date of purchase: Tire will be replaced with a comparable new Hankook produced tire free of charge, including mounting and balancing charges. Applicable taxes on the new tire and cost of any other charges in connection with the replacement of the tire are required to be paid by the owner.
After the first 2/32nds of the original usable tread or after one year from date of purchase, whichever occurs first: The amount of the credit will be determined by multiplying the pre-determined adjustment price for the tire (excluding taxes) by the percentage of original trade depth.
Free replacement workmanship warranty not applicable to snow tires.
What is not Covered
This limited warranty does not apply to tires which are being serviced under the following conditions:
Originally purchased or used outside the United States of America or Puerto Rico.
Willful Abuse / Collision / Wreck / Fire.
Continued use while flat or severe under/over inflation.
Road Hazards including without limitation, puncture, cut, impact break, stone drill, bruise, bulge, snag, collision.
Premature / irregular wear due to vehicle mechanical reason.
Conditions resulting from without limitation, improper mounting/ demounting, under inflation, improper tire size, improper repair, defect in vehicle, abuse.
Ozone or weather cracking on tires over 4 years old from the date of manufacture.
Ride disturbance complaints after 2/32nds tread wear or 1 year from date of purchase, whichever occurs first.
With tread depth of 2/32nds or less remaining depth.
With the serial number cut or buffed.
Racing & off road use and Misapplication.
Loss of time or use, inconvenience or any incidental or consequential damage.
Used in commercial service, excluding truck & bus tires.
Note: Consequential damage mentioned above may not apply to you based on States limitation.
Owner's General Obligation
In order to be eligible for HANKOOK's limited warranty program, the owner must observe the following:
Present the tire to an authorized Hankook dealer in the United States of America or Puerto Rico.
Submit or present a copy of the original purchase receipt.
Complete and sign a Hankook Claim Form which is available at any authorized dealer.
End users should complete the warranty card which is available at authorized Hankook dealers for tread wear mileage warranty and mail it to Hankook Tire America Corp. (333 Commerce St. Suite, 600 Nashville, TN 37201. Attn: Technical Department) within 30 days from the date of purchase.
In order to take advantage of mileage warranty, you must submit tire rotation record which proves that all tires are rotated once every 7,500 miles or fewer between rotations.
If the tire owner abuses the tires by failing to do the following, but not limited to observing safety warnings, maintain proper inflation pressure, maintain vehicle alignment and tire rotation, expected tire performance or life may not be achieved and your safety cannot be ensured.
reviews
Q&A