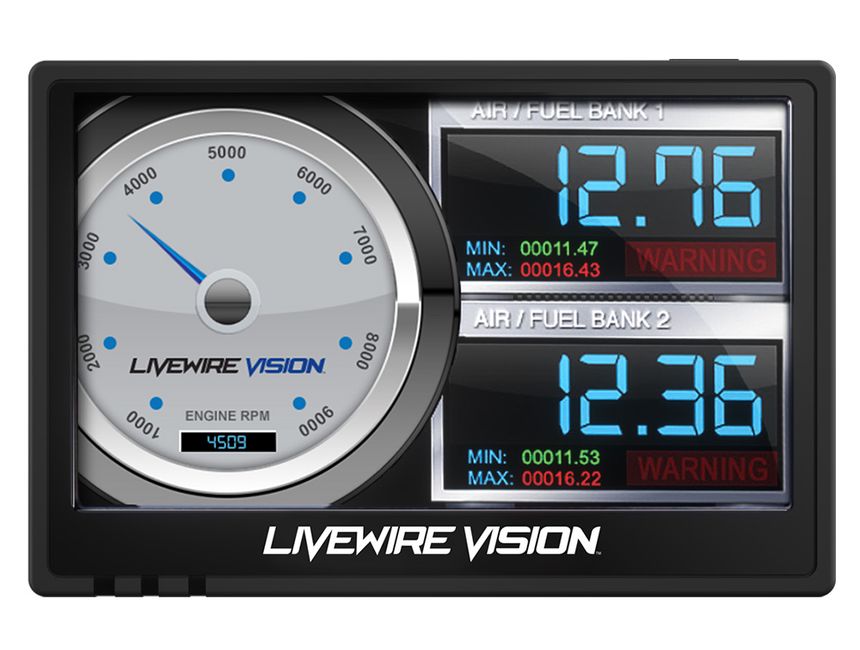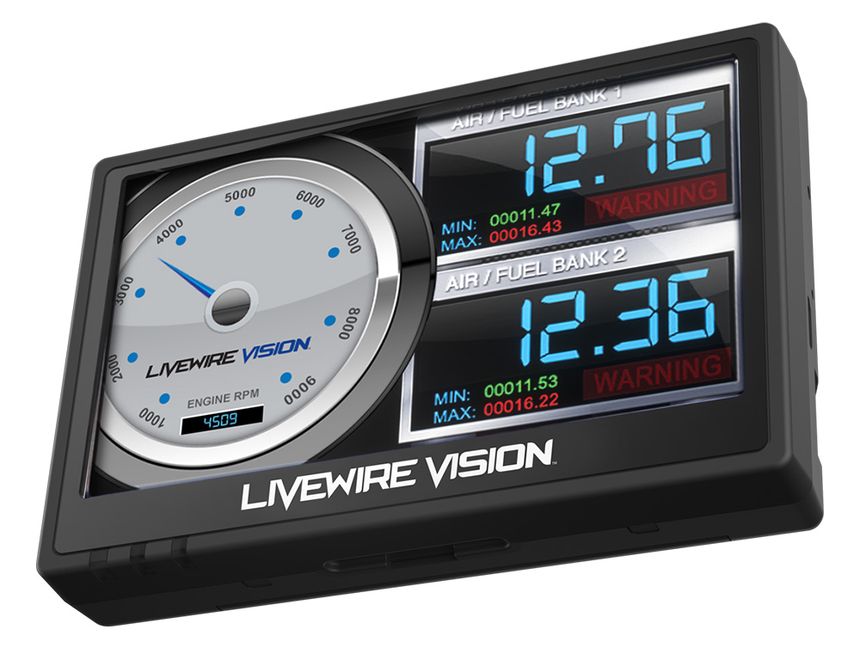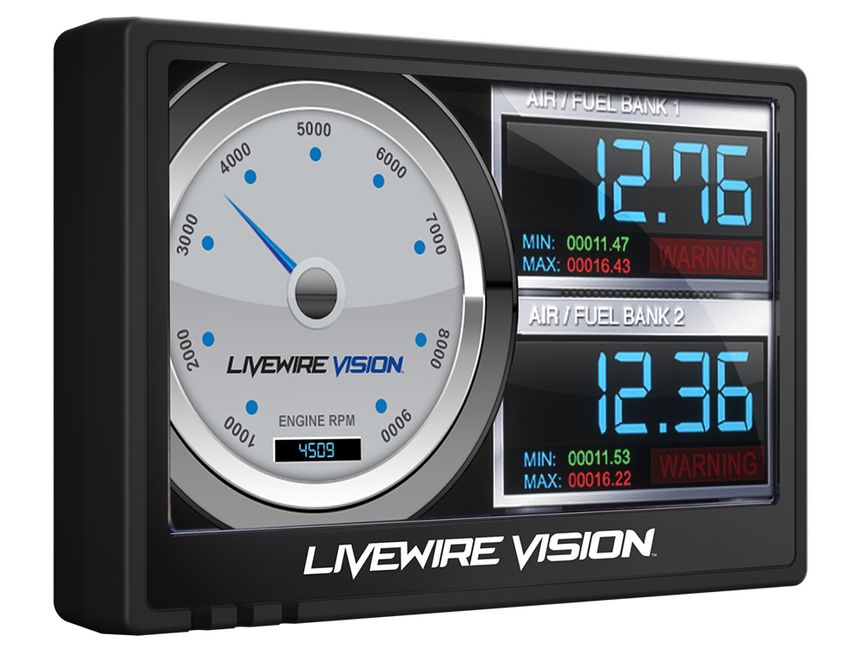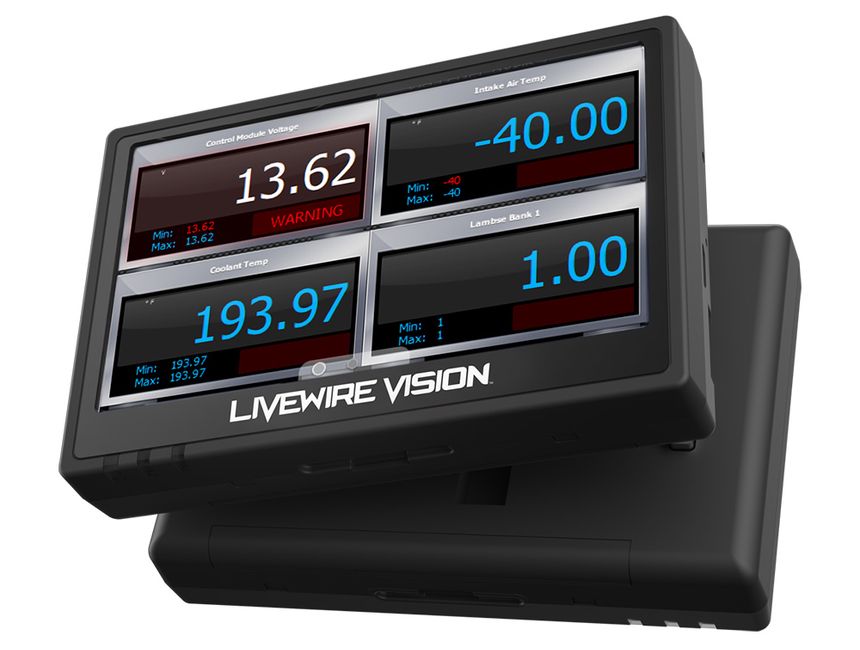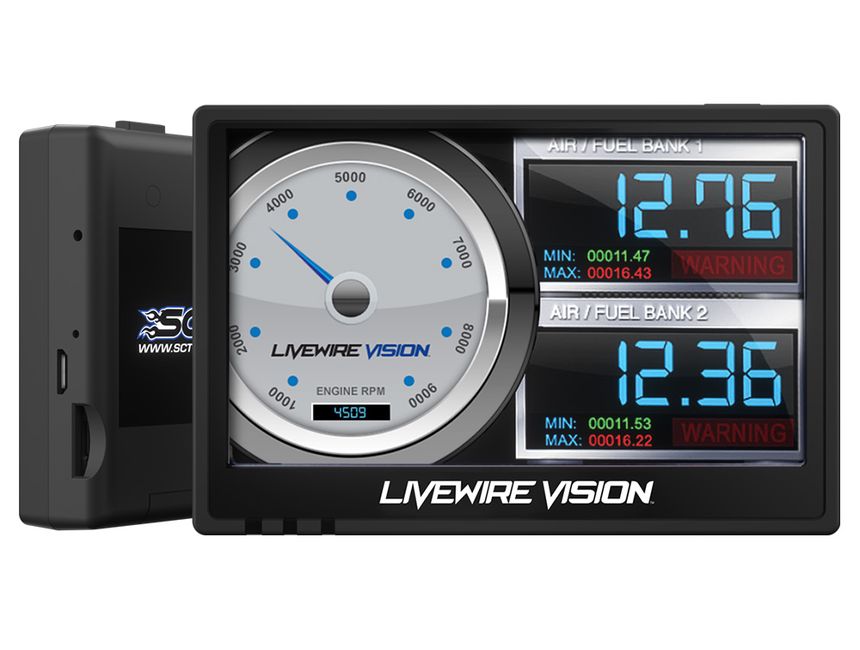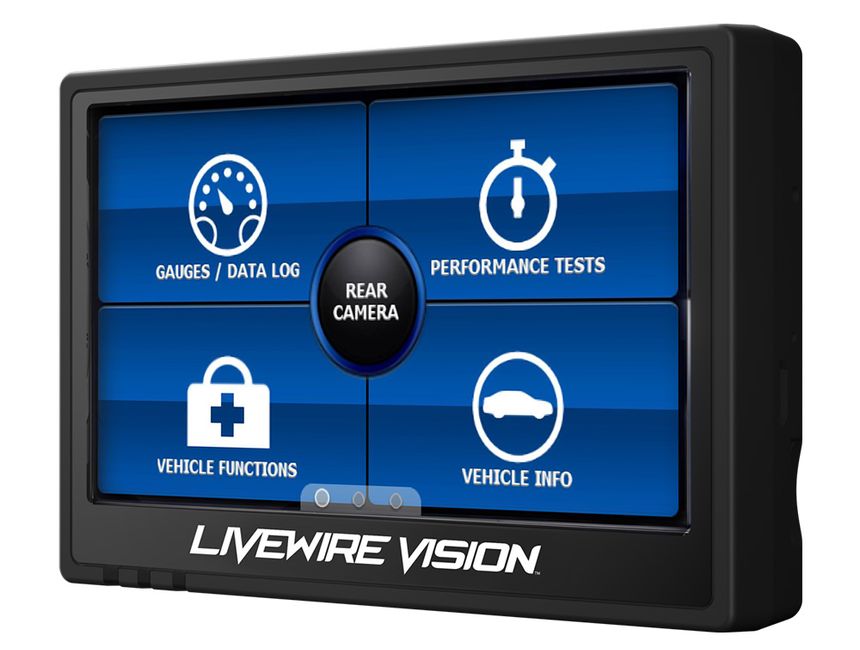 SCT Livewire Vision Performance Monitor
Very Limited Supply Low quantities. On sale while supplies last
description

install

warranty

reviews

Q&A
description
Displays Vehicle Data Using the On-Screen Customizable Gauges
Touchscreen Allows to Log Engine Functions for Playback using SCT's LiveLink Software
Monitor Real-Time Performance Data, such as 0 to 60, 1/4 Mile & Braking Test Times
Inputs for Analog Sensors & a Backup Camera
Windshield Mount Included (Optional Pillar Pod Mount Available)
Monitor ONLY Device, Does Not Tune Vehicles
Limited 1 Year Warranty
The SCT Livewire Vision Performance Monitor puts your vehicle's vital stats on display. This device includes the latest datalogging capabilities to accurately measure each ride and help discover the power potential of your vehicle.
Available for gas and diesel models, the SCT Livewire Vision Performance Monitor will allow you to monitor your ride to the specification that you have been wanting. You can monitor real-time performance data; such as 0 to 60, 1/4 mile and braking test times, or read and clear Diagnostic Trouble Codes (DTCs), just to name a couple. Extend the possibilities with additional inputs for analog sensors and a backup camera.
The SCT Livewire Vision Performance Monitor makes it very easy to monitor all your engine data and more from the touchscreen display. The SCT Livewire Vision Performance Monitor also allows you to customize the look of your gauge layouts and data log engine functions for playback using SCT's LiveLink Software.
Installing the SCT Livewire Vision Performance Monitor is a snap taking only a few minutes. All you have to do is plug it into your vehicle's OBD-II Port and follow the step by step instruction on the monitor. Updates are also very easy with the included Micro USB Cable.
Our Guarantee
Truck Experts a Call Away
California Residents: 
Prop 65 Warning
install
Installing the SCT Livewire Vision Performance Monitor is simple and comes with clear cut directions. Should only take about a few minutes to plug it in to your OBDII port and go through the step by step instructions on the monitor. However if you have any questions please give our customer service a call.
warranty
READ THESE LIMITED WARRANTY TERMS AND CONDITIONS CAREFULLY BEFORE INSTALLING AND/OR USING THE PRODUCT. BY INSTALLING AND/OR USING THE PRODUCT, YOU AGREE TO BE BOUND BY THESE TERMS.
What Does This Warranty Cover?
This warranty covers any defects in material or workmanship (including any software or firmware malfunctions) in your SCT or Bully Dog branded tuning device (each, a "Product") within the warranty period set forth below, subject to the following conditions and limitations.
How Long Does The Coverage Last?
This warranty lasts for a period of one (1) year following the date of original purchase of the Product by the end-user customer (the "Customer" or "you").
Proof of purchase date can be established by either
(a) Submitting your online registration within thirty (30) days of purchase, as provided below.
(b) Presenting a proof of purchase receipt evidencing the date of purchase at the time of your submission of a warranty claim.
If you make a timely warranty claim and if Derive Power, LLC ("Derive") satisfies its obligations under this warranty by repairing or replacing the Product, your warranty coverage will be for the longer of
(a) The balance of the original one-year warranty period
(b) 60 days after the repaired or replaced Product is shipped to you.
All implied warranties, including warranties of merchantability and fitness for a particular purpose are limited to the warranty period set forth above.
What Will Derive Do?
Derive will, at its option, and as its sole obligation under this warranty, replace, repair or refund the purchase price of any Product that has a defect(s) in material and/or workmanship (including any software or firmware malfunction) provided that Derive is notified of the claim within the warranty period provided herein. Derive will not be liable for, nor will it reimburse the Customer for any fees, costs, charges or expenses for shipping and/or handling associated with the return to Derive of any Product sent in for replacement, repair or refund unless Derive has inspected such Product and confirmed that the claim is covered by this warranty (and, in such event, reimbursement of such amounts is subject to the terms of Derive's Pricing, Ordering and Returns Policy).
What Does This Warranty Not Cover?
(a) Any damage, defect or malfunction caused by abuse, misuse, neglect, vandalism, accident, act of God (e.g., flood, fire, lightning), or other cause beyond the reasonable control of Derive is/are not covered by this warranty.
(b) Also, any damage, defect or malfunction resulting from faulty or improper installation of the Product, alteration or modification of the Product, use of accessories or attachments not manufactured by Derive, improper storage or handling of the Product, failure to operate, maintain and/or repair the Product in accordance with Derive's instructions, or use of the Product in an application other than as published in Derive's technical and promotional materials, is/are not covered by this warranty.
Customer understands that the Product may increase power and/or performance of the Customer's vehicle and, therefore, agrees that Derive is not responsible for any additional wear and tear to any components or parts of the Customer's vehicle (including but not limited to engine, transmission, suspension, brakes and tires) due to installation or use of any Derive Product.
Limitation of Damages
DERIVE IS NOT LIABLE FOR AND HEREBY EXCLUDES ANY AND ALL INDIRECT, INCIDENTAL, SPECIAL, CONSEQUENTIAL, EXEMPLARY OR PUNITIVE DAMAGES RELATING TO THE PRODUCTS COVERED BY THIS WARRANTY, EVEN IF DERIVE WAS ADVISED OR AWARE OF THE POSSIBILITY OF SUCH DAMAGES. THIS EXCLUSION COVERS, WITHOUT LIMITATION, DAMAGES FOR LOSS OF USE, REVENUE, OR PROFIT, COST OF CAPITAL, COST OF SUBSTITUTE EQUIPMENT, ADDITIONAL COSTS INCURRED BY CUSTOMER, DAMAGES TO ELECTRONIC EQUIPMENT, AND CLAIMS BY THIRD PARTIES. DERIVE SHALL NOT BE LIABLE FOR ANY LABOR CHARGES, LOST TIME, OR OUT-OF-POCKET COSTS OR EXPENSES INCURRED BY THE CUSTOMER IN CONNECTION WITH THE INSPECTION, EXAMINATION, DIAGNOSIS, REMOVAL OR RE-INSTALLATION OF THE PRODUCT, WHETHER IN CONNECTION WITH ANY WARRANTY CLAIM OR OTHERWISE. IN NO EVENT SHALL DERIVE BE LIABLE TO THE CUSTOMER FOR AN AMOUNT GREATER THAN THE PURCHASE PRICE FOR THE PRODUCT.
Exclusive Remedy
This is your exclusive warranty and is in lieu of all other warranties, express or implied, all of which are disclaimed by Derive and waived, released and renounced by the Customer, except as may be required by applicable law. Without limiting the generality of the foregoing, Derive shall not be liable for any breach of any other written or oral warranties given to you by any third party(ies) such as those (if any) given to you by dealers or distributors of the Products.
What Are Your Responsibilities?
You are responsible for performance of all scheduled and manufacturer-recommended maintenance to your vehicle. This includes but is not limited to monitoring and replacement of all fluids, filters and other parts that require periodic replacement.
If you contend that any Derive products are responsible for any mechanical or other problems with your vehicle, you must allow Derive the opportunity to inspect the vehicle and verify/diagnose its condition before you make any repairs or alterations to the vehicle. Without limiting the other terms and conditions of this warranty, and any other defenses that Derive may have, you understand and agree that your failure to comply with the foregoing requirements will relieve Derive from any responsibility to you with regard to any problems with your vehicle.
How Do You Register Your Product?
In order to be eligible for service under this warranty you should complete the online registration information within thirty (30) days of purchase. To register your Product, please log on to www.sctflash.com/register (for SCT-branded Products) or www.bullydog.com/registration (for Bully Dog-branded products), click on "Warranty Registration" and follow the simple steps provided on the website. While pre-registration of your Product is not mandatory, it will expedite the warranty claims process.
How Do You Make a Warranty Claim?
To initiate a claim under this warranty, you can either log on to the Derive website and follow the warranty claim instructions or you can call 407-774- 2447 (for SCT-branded Products) or 940-783-9915 (for Bully Dog-branded Products) and instructions will be provided.
The Customer must:
(a) Obtain a Return Merchandise Authorization (RMA) number from Derive prior to returning any Product.
(b) Include the RMA number (and proof of purchase, unless the Product was registered with Derive within 30 days of its purchase).
(c) Be responsible for and prepay any shipping expense in connection with the return of any Product to Derive.
Any Product returns, including returns for reasons other than warranty claims (e.g., the Customer ordered the wrong Product), are subject to Derive's Pricing, Ordering and Returns Policy which can be found on the Derive website. Non-warranty claim returns will result in a restocking fee equal to 25% of the suggested retail price of the Product.
Can This Warranty Be Transferred?
This warranty is not transferable and applies only to the consumer who originally purchased the Product.
How Does State Law Apply?
This warranty gives you specific legal rights, and you may also have other rights which may vary from state to state. Pertinent state law shall control for what period of time following the sale a consumer may seek a remedy under the implied warranty of merchantability or fitness for a particular purpose. Some states do not allow limitations on how long an implied warranty lasts, so the above limitation may not apply to you. Also, some states do not allow the exclusion or limitation of incidental or consequential damages, so the above limitation or exclusion may not apply to you.
reviews
Q&A