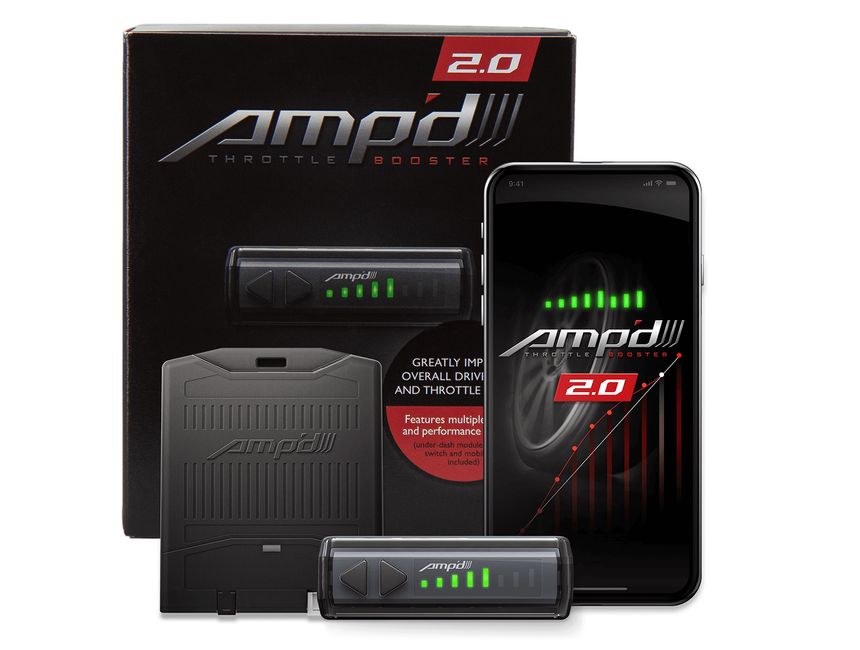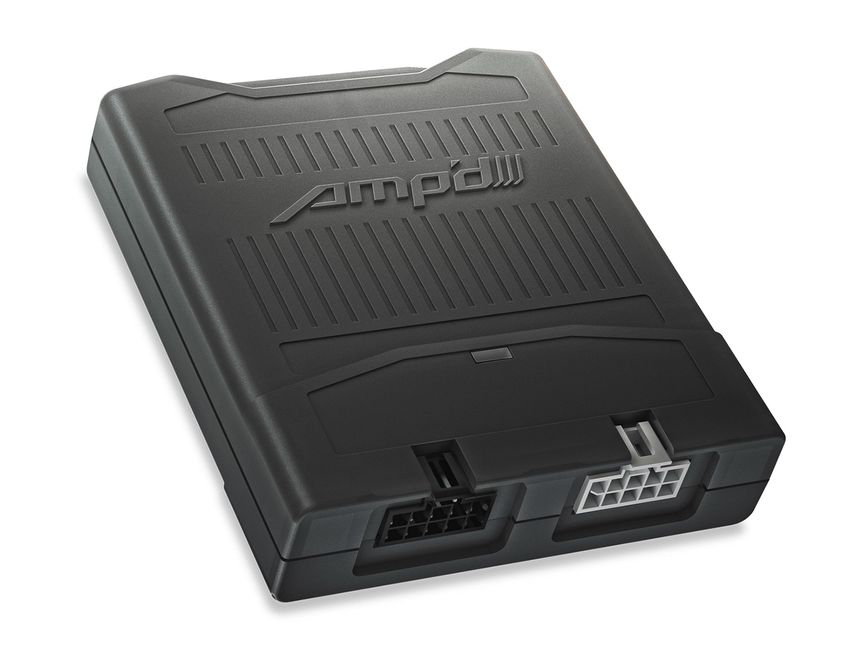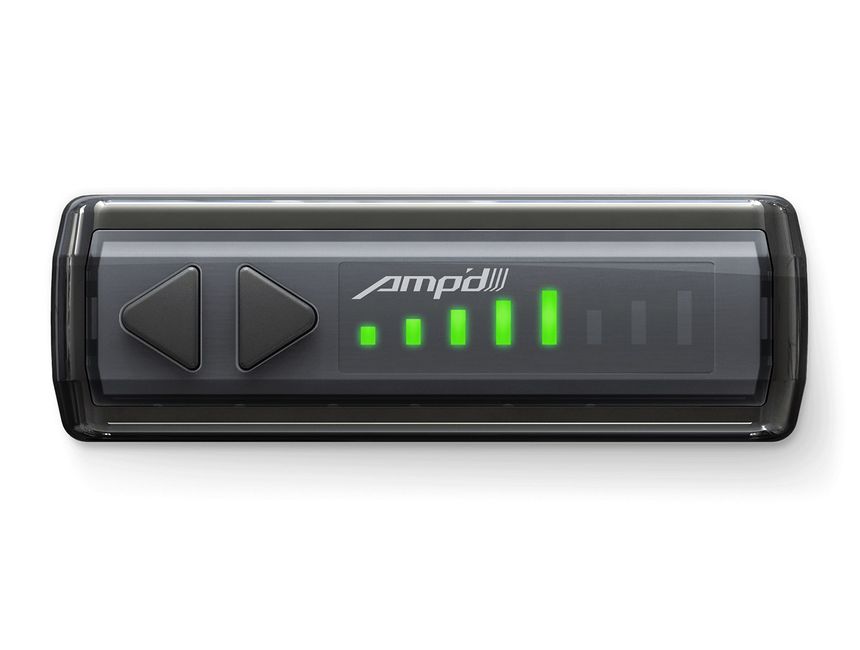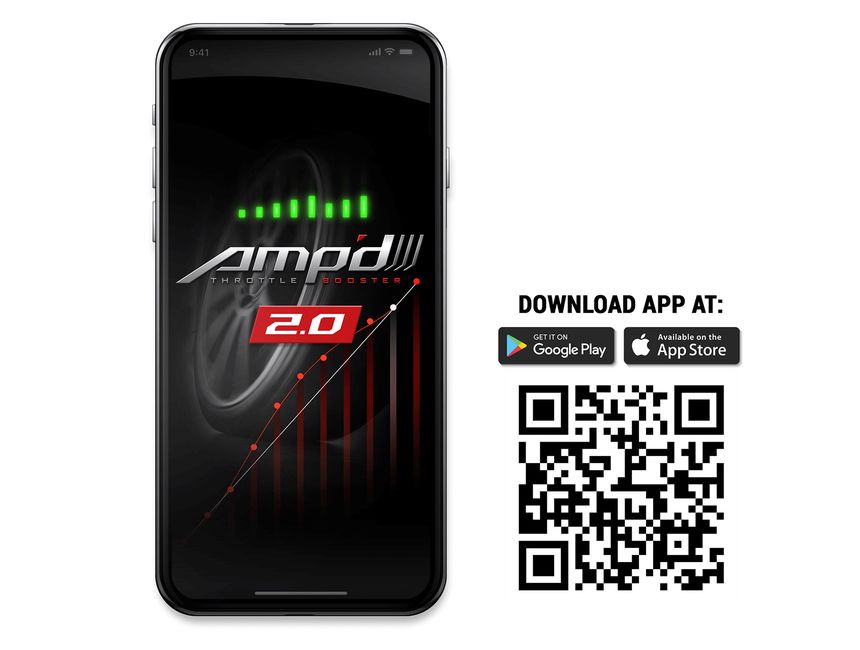 Amp'd 2.0 Throttle Sensitivity Booster
Made in the USA
description

install

warranty

reviews

Q&A
description
Increases accelerator pedal response over stock
Faster acceleration from a stop, and throughout the RPM band
Reduces that "laggy" pedal feeling
Quicker turbo spool-up
Works with stock or modified vehicles
Optimize driving in town and on the highway
Wireless push-button control switch
5 preset throttle curves
3 customizable throttle slots
Free mobile app for the custom settings
Decreasing pedal lag expedites a vehicle's performance curve to occur sooner and supplies quicker turbocharging spooling. The Amp'd 2.0 Throttle Sensitivity Booster Kit features an intuitive plug-and-play installation using a vehicle's stock connections. The system offers 5 preset throttle curves that boost throttle response by 80%, 100%, 150%, 175%, or 200%. The Amp'd 2.0 also offers 3 custom storage slots if used with the mobile app. This means you can adjust your own throttle curves and save them for when you need them. The revolutionary wireless control switch allows you to adjust from the Edge Amp'd 2.0's preset curves to your own custom curves within seconds. Don't hesitate, accelerate!
Our Guarantee
Truck Experts a Call Away
California Residents: 
Prop 65 Warning
install
Amp'd 2.0 features an intuitive plug-and-play installation using a vehicle's stock connections. This can be done at home following the included instructions. Mobile app required for throttle curve customization.
Amp'd 2.0 Throttle Booster Installation and Overview
07:12
warranty
Edge Products Inc. (SELLER) gives Limited Warranty as to description, quality, merchantability, fitness for any product's purpose, productiveness, or any other matter of Edge products sold herewith. The SELLER shall be in no way responsible for the product's open use and service and the BUYER hereby waives all rights other than those expressly written herein. This Warranty shall not be extended or varied except by a written instrument signed by SELLER and BUYER. The Warranty is Limited to one (1) year from the date of sale and limited solely to the parts contained within the product's kit. All products that are in question of Warranty must be returned shipping prepaid to the SELLER and must be accompanied by a dated proof of purchase receipt. All Warranty claims are subject to approval by Edge Products Inc. If the BUYER sends back a failed unit that is out of warranty and chooses to buy a refurbished unit, the refurbished unit will only carry a 60 day warranty. If the BUYER purchases a new unit at a predetermined discounted rate, it will have the standard 1 year warranty. Under no circumstances shall the SELLER be liable for any labor charged or travel time incurred in diagnosis for defects, removal, or reinstallation of this product, or any other contingent expenses. Under no circumstances will the SELLER be liable for any damage or expenses insured by reason of the use or sale of any such equipment. This warranty is VOID for any new products purchased through auction websites. WARRANTY IS VALID ONLY FOR NEW PRODUCTS PURCHASED THROUGH AUTHORIZED DEALERS (proof of purchase required for all warranty claims).
reviews
Q&A